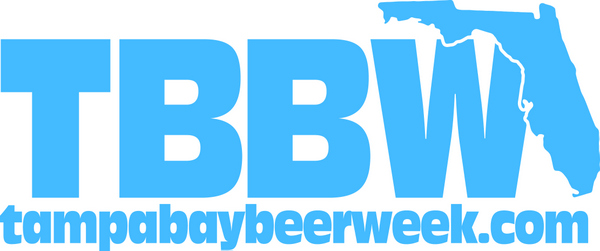 In its fourth incarnation, Tampa Bay Beer Week celebrates even more.
More than 40 breweries in Hillsborough and Pinellas counties, plus another 10 or so in adjoining counties.
More beer and more beer styles being produced by those breweries.
More bottles and cans from local breweries making their way onto store shelves.
More jobs being created at locally owned small businesses.
And more recognition from the rest of the world of the growing and thriving craft beer community, not just in the region, but also across the entire state.
At the annual Florida Brewers Guild Craft Beer Festival, which officially kicks off the week on Saturday, March 7, 60-plus breweries from the Sunshine State will be pouring samples of their beer. This would have been impossible just a few years ago – there weren't nearly that number of breweries in the state. And the ones at the festival are not even half the number of Florida breweries that are making beer today.
It's a great time to be a beer lover in Florida, and Tampa Bay Beer Week will be a great time – period.
But there are so many high-quality events planned, many at the same time, what's a beer geek to do? For this year, my list of the must-attend events takes the form of a mental exercise: If I could go to two events each day (some days I would need a cloning device), which ones would I be sure to attend? And in some cases, I'll throw in a bonus event because, well, there are just so darn many!
Friday
Though it doesn't start until Saturday, Tampa Bay Beer Week kickoff parties are taking place on both sides of Tampa Bay: The Flying Pig Taphouse in downtown St. Petersburg starting at 7 p.m., and Pour House in downtown Tampa at 8 p.m.
BONUS: Coppertail Brewing Co. in Tampa opens the doors on its permanent tasting room at the grand opening starting at 6 p.m.
Saturday
The above-mentioned Florida Brewers Guild Craft Beer Festival runs from 2 to 5 p.m. at Cotanchobee Fort Brooke Park in downtown Tampa. VIP ticket holders get in an hour early.
A Farm to Table Dinner at Sweetwater Farm with Six Ten and Whole Foods runs from 6 to 8 p.m. at the farm, 6942 W. Comanche Ave., Tampa. (No need for cloning, but you might want to pack a spare liver if you're attending after the FBG fest beforehand).
Sunday
Eggs & Kegs Tour de Tandem starts at 11 p.m. in the Cigar City Brewing Tasting Room. The now-monthly brunch from LOKO Cuisine started at TBBW offers a good chance to fill your stomach with delicious dishes prepared with beers from Cigar City and New Belgium to prepare for the next event.
The Best Florida Beer Championship Brewers Ball offers only the award-winning beers from the 2015 BFB Championship for tasting. Winners already know they won, but they'll find out here if they landed gold, silver or bronze medals. An after-party starts at 6 p.m. at Tampa's Independent Bar & Café.
Monday
Gose Bottle Release starts at 3 p.m. at Rapp Brewing in Seminole. The salty and sour German beer style is one of the most popular on tap at Rapp, and a limited number will be available in 750 ml bottles.
"Blogs & Brews": Inside the Beer Writer's Mind will be from 6 to 8 p.m. at The Ale & The Witch in downtown St. Petersburg. Meet and greet some of the chroniclers of Florida's craft beer community (including yours truly) and enjoy some local brews and barbecue specials from the nearby Witch's Den restaurant. There will be giveaways and other specials.
BONUS: Show off your shuffling skills and help raise money for a good cause starting at 6 p.m. at the St. Pete Shuffleboard Club. Shufflin for Legg is a fundraiser to help pay medical bills for Aaron Legg, a local beer geek who recently suffered a series of seizures and was hospitalized for 12 days. Entry fee is $100 per four-person team, and that includes beer from local breweries Cycle, Cigar City, Darwin and St. Pete Brewing. More details here.
Tuesday
The annual Tampa Bay Brewing Company Beer Dinner (a personal favorite) features six courses prepared by the Ybor City brewpub's Chef John Boyle, each paired with a beer from Brewmaster David Doble.
Another beer dinner at The Salt Rock Tavern in Oldsmar features three courses prepared by Head Chef Tyson Williams, and five beers from Largo's Barley Mow Brewing.
BONUS: Hungry for a beer-and-food pairing but can't make it to either of the above? Burgers & Brushfire at the Tampa Taproom will offer Chef Brian's incredible burgers and Big Storm Brewing beers all day.
Wednesday
Still hungry? Swing by Pair O' Dice Brewing in Clearwater for Biers & Brats starting at 5 p.m. Quench your thirst with three traditional German lagers and ales specially brewed for the occasion will be on tap and satisfy your hunger with authentic German bratwursts grilled up by Brats Sensation.
The homebrewing community gets a chance to shine as the South Tampa homebrewing club Special Hoperations deploys for a Take Over of Coppertail's New Tasting Room from 6 to 9 p.m.
BONUS: Funky Buddha Prelaunch Kickoff at Cigar City Cider and Mead at 7 p.m. will feature 14 beers on tap from the lauded South Florida brewery, which recently announced that its distribution footprint is spreading to cover the Tampa Bay area.
Thursday
The Tampa Bay Brewing Company Night of Wood offers pours of eight special beers that were all aged with wood or in barrels. The brewers who created them will be on hand to discuss the process from 5 to 11 p.m.
"Blood, Sweat & Beer," a new film that explores the explosive growth of the craft beer industry and the dramatic journeys of two start-up breweries, will screen at Mad Beach Craft Brewing Company in Madeira Beach at 7 p.m. The movie also features interviews with notables from other breweries, including Florida's Cigar City and 7venth Sun.
Friday
The Foeder for Thought block party at Green Bench Brewing in St. Pete kicks off at 4 p.m. The festival highlights beers fermented in foeders (picture giant oak wine barrels) from Green Bench and other local and national breweries.
BREW CIRCUS At The Pour House sounds … interesting. Here's the description: "There will be $5 tickets on hand to have your favorite brewery sing, dance and basically embarrass themselves for your amusement! Stageworks Theatre has created a wild list of different activities for each brewery to perform! There will be giveaways, mayhem and more!" It is not known if any more exclamation points are available, but it is presented by Barley Mow Brewing and will feature Coppertail Brewing, Cigar City Brewing and Tampa Bay Brewing Co. Proceeds benefit Stageworks. Starts at 7 p.m.
Saturday
Even at $200 per ticket, the legendary Hunahpu's Day, which was pronounced dead last year but brought back to life, sold out in a matter of minutes. The beer festival and bottle release once again will fill the parking lot of Cigar City Brewing on the second Saturday of March. Those fortunate to have scored tickets can expect some pleasant surprises.

If you weren't able to get tickets for Hunahpu's Day, the brewery is sponsoring a fest of a different tone: The Cigar City Brewgrass Festival will start at 5 p.m. in the wonderfully funky environs of Tampa's Skipper's Smokehouse. (A second edition takes place Sunday at Ferg's Sports Bar & Grill in downtown St. Pete). Nearly a dozen artists are scheduled to perform, and at $20 advance, $25 day of show, admission takes less of a hit on the wallet than does H-Day.
Sunday
End of TBBW Brunch at Six Ten Brewing is pretty much what it says. A beery meal with munchables from The Twisted Iron food truck. The menu has not been posted, but the description says to think "Horchata Stout Waffles."
The third annual Hunahpu's Hangover Day will highlight 7venth Sun collaborations with seven other breweries starting at noon. Though it ostensibly takes place at 7venth Sun, it's essentially a massive street party within the Dunedin craft beer pyramid that also includes Dunedin Brewery and Dunedin House of Beer.
Of course there are a LOT more events taking place during the eight-day celebration of the Tampa Bay area craft beer community, so check here for the complete calendar (which will have items added to it, so return to it before finalizing your intinerary).
Follow my #TBBW adventures on the Beer in Florida Facebook page, Twitter, and Instagram.