Funky Buddha Brewery has always integrated culinary influences into its beer recipes. Heck, it was their Maple Bacon Coffee Porter that first turned the eyes of the beer world on what was then a tiny brewery/coffeehouse in Boca Raton.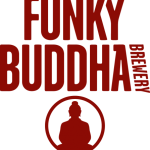 Now two years after expanding into its relatively massive production facility/taphouse in Oakland Park, Funky Buddha announces that it has come full circle and will open a locally driven kitchen in the space to help satiate the hunger of its customers.
Of course, Funky Buddha always has welcomed local food trucks to serve its customers, and a comment in the thread of a Facebook post announcing the news said, "We will certainly find ways to incorporate our favorite trucks, but we're not exactly sure in what capacity yet. Stay tuned!"
We will!
By the way, the brewery is celebrating its second anniversary this Saturday with a massive street party. Details here.
Here's the complete news release:
FUNKY BUDDHA BRINGS FOOD TO THE TAP ROOM: "CRAFT FOOD COUNTER & KITCHEN" COMING IN SEPTEMBER

OAKLAND PARK, FL – Funky Buddha is brewing up something special yet again – this time, in the kitchen. The brewery announces today its plans to build Craft Food Counter & Kitchen inside its Oakland Park tap room. This next step in Funky Buddha Brewery's evolution will be a locally driven kitchen, combining gourmet-caliber plates with a fast-casual "counter" method of service that will fit right in to the tap room's communal atmosphere.

"Funky Buddha has always been known for its culinary approach to beer, and now we'll finally have a kitchen to match," says KC Sentz, co-owner of Funky Buddha Brewery. "The ability to incorporate quality food and beer together will just complete the tap room experience for our customers."

Craft Food Counter & Kitchen (CFC) will be helmed by Jeff Vincent, a South Carolina native and veteran head chef who most recently brought acclaim to the fantastic Beauty & the Feast inside the Atlantic Hotel on Fort Lauderdale beach. Vincent joined the Funky Buddha family in early April to produce the menu and oversee build out plans. His eclectic style draws on his low country roots, combining European technique learned from his early days apprenticing in the Iberian Peninsula with world-class kitchen experience at resorts such as Callaway Gardens and Highland Country Club in LaGrange, Georgia.

"Funky Buddha's unique beers are an amazing source of inspiration," says Vincent. "Getting to create dishes that will interact with these beers has got me anxious to fire up that kitchen and get cooking."

Vincent's menu will combine farm-to-table ethos with upscale street food. Everything will be made in house, utilizing local ingredients as well as the beers themselves. Pickled vegetables will be made using only fresh, seasonal produce. Sauces, soups, and even Bavarian-style soft pretzels will be made in house daily. The latter – a signature item at CFC – will utilize ingredients from every step in the brewing process: spent grains in the dough, real brewer's yeast as a leavening agent, and finished beer in a variety of house-made dipping sauces including Doc Brown whole grain mustard, sriracha buttermilk dressing, and red ale cheese dip.

Traditional pub fare will all receive a twist courtesy of Vincent. The Mighty Tatanka burger will feature a blend of lean bison livened with bacon, smoked buffalo mozzarella, charred plum tomatoes, and sweet onion compote. Deviled eggs — a true Southern staple — will be set off with pancetta lardons and house-pickled okra. Sharable plates perfect for splitting over a few beers will also be a central focus. Dishes include wok-blistered shishito peppers with smoked peanuts and lime pearls, and beer-battered chicken and biscuit sliders with sawmill gravy. CFC at Funky Buddha Brewery will serve lunch, happy hour, and dinner daily.

The addition of Craft Food Counter & Kitchen will also allow the brewery to conduct beer dinners on site, pairing its brews with custom dishes turned out by Vincent. A full-service private room that seats 125 is being built concurrently and will host corporate events, receptions, and private functions with a full catering menu to match.

Construction on CFC is set to begin immediately with an estimated completion in September. This news comes as the brewery is set to host its Second Annual Anniversary Festival & Block Party on May 30th, which promises to be the largest craft beer event to date held in South Florida. For more details on the festival visit anniversary.funkybuddhabrewery.com.