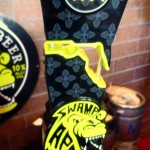 A North Carolina beer distributor has announced that it will carry some beers from Cape Canaveral-based Florida Beer Company.
Mutual Distributing Company, based in Raleigh, said in the announcement that it will handle three of the brewery's porfolio at first: Key West Southernmost Wheat, Swamp Ape Double IPA, and the recently debuted Sunshine State Pilsner.
"We are very excited to have the opportunity to partner with Mutual Distributing as our statewide partner in North Carolina. We look forward to working with Mutual and introducing our brands to the craft beer enthusiasts of this state," said Jim Massoni, President and CEO of Florida Beer.
Florida Beer Company joins Saint Somewhere Brewing Company of Tarpon Springs and Tampa's Cigar City Brewing in the currently small club of Florida breweries that distributes beyond the state line.
Florida Beer officially opened its new Cape Canaveral brewery and tasting room to the public on July 26. It previously operated out of a much smaller facility in Melbourne. The brewery also  just announced a new addition to its beer porfolio – Gourd Shorts, a seasonal pumpkin ale.
(Florida Beer Company is featured on Page 77 of the Florida Breweries
guidebook.)