Only a couple of years ago, it would have been extremely difficult for a craft beer bar to dedicate more than a few of its taps to beer produced in Florida, much less have a decent-sized beer festival dedicated exclusively to brews from the Sunshine State.
A pair of signature events in September will showcase just how far we've come in a short time.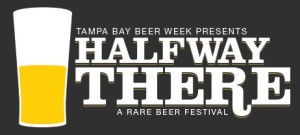 On Saturday, September 6, the second annual Halfway There: A Rare Beer Festival will take place at the historic St. Petersburg Coliseum, featuring nearly 50 Sunshine State breweries and noted national players. Not only will fest-goers be able to taste rare and one-off beers, but also the creations of at least eight homebrew clubs. There will be vendors, food trucks and live music. The festival marks the halfway point to the 2015 Tampa Bay Beer Week, which continues to grow bigger and better each year. Tickets are available here. Follow the Halfway There Facebook Page for updates.

Then up in Tallahassee, Proof Brewing Company will hold its second annual Florida Tap Invitational on September 13, featuring 50-plus brews from more than 20 breweries "from the tip of the Keys to the western edge of the Panhandle." The event will feature commemorative glass snifters with a logo from the event, live music and food trucks. If you're attending, you might want to make a weekend out of it so you can visit Proof's new Railroad Square production brewery, as well as other Tallahassee craft-beer hot spots such as Momo's Pizza & Brew House and Fermentation Lounge. I've heard rumors that there might even be an opportunity to try some brews from Tally's soon-to-open Grasslands Brewing Company.
If you can attend either event, it will help support our growing craft beer industry and offer an opportunity to taste some of the fantastic beer being made here.
I've confirmed that I'll be signing and selling copies of "Florida Breweries"
at the Halfway There fest, and I'm working on doing an appearance at the Proof Brewing event as well. Stay tuned.