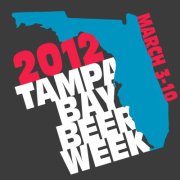 On the heels of the inaugural South Florida Beer Week, which kicks off today and runs through Sunday, comes more news that the Florida craft beer scene has entered the national conversation: Tampa Bay Beer Week.
Despite the best efforts of organizers to keep secret from us the details of this momentous occasion, the crack research team at Beer in Florida world headquarters has uncovered some of the particulars. Ok, maybe I just saw it on Facebook, but still …
Tampa Bay Beer Week will take place March 2 to 11, 2012. A Facebook page has been created, and a website seems to be in the planning stages. The Facebook page gives this short description of what to expect:
Tampa Bay Beer Week is a series of events supported by local brewers, distributors, and vendors during the first week of March to celebrate both local and imported craft beers availible in the Tampa Bay area.

Beer in Tampa Bay is something to celebrate. With the recent arrival of several new breweries, along with the success of our established ones, the Tampa Bay area is experiencing a renaissance in craft beer. In recognition of this, your local breweries, distributors, and vendors have collaborated to showcase the beers that make all corners of Hillsborough, Pasco, and Pinellas County the beer Mecca of Florida. Join us during March 2nd – 11th (even in the week prior) at the many events around the bay. The event list is always growing. Raise your glass, goblet, stein or tankard. Cheers!
The page lists some events scheduled during the week. Some were already planned; other are new. Among them:
Saturday, March 3
The annual Florida Brewers Guild Beerfest and Best Florida Beer Championship in Ybor City.
Sunday, March 4
Brewer's Ball at Skipper's Smokehouse, 910 Skipper Road, Tampa.
Tuesday, March 6
Wednesday, March 7
Beer Cocktail Night at Ciro's Speakeasy & Supper Club.
Thursday, March 8.
Cigar City Brewery showcase at The Ale and The Witch, 111 Second Ave., Saint Petersburg.
Local Beer Only Zombie Pub Crawl in Ybor City.
Firkins & Food Trucks at Barley Mow Brewing Company, 518 W. Bay Drive, Largo.
Saturday, March 10.
Hunahpu's Release Day at Cigar City Brewing, 3924 W Spruce Street Suite A, Tampa.
To clarify for those who live outside the area: "Tampa Bay" is in fact a body of water, but the region is referred to as "the Tampa Bay area." Events will likely all take place on dry land.
No contact information seems to be available yet for venues or businesses interested in hosting events 0r being sponsors. I'm confident that the organizers will have that information up soon, as well as lodging suggestions or discounts for those coming from out of town.
Stay tuned for more details.