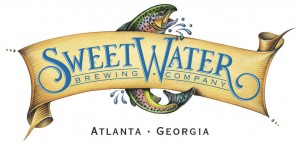 Florida beer geeks living in North Florida or the Tampa Bay area have already been enjoying the output of Atlanta's SweetWater Brewery, and now Central Florida gets its chance.
December marks the official introduction of the brewery's flagship brands to  the Orlando market, and as when the beer was debuted in Tampa, SweetWater founder Freddy Bensch and his posse will be leading visits to a couple of craft-beer destinations in the region.
UPDATE: SweetWater has released the schedule for the visit to Central Florida.

Weds. 12/12 from 6-7 p.m. – TAPS in Winter Park (480 N Orlando Ave.)
Thurs. 12/13 from 6-7 p.m. – American Beer Recyclers in Orlando (1301 Atlanta Ave.)
Read on for details:
ATLANTA (November 30, 2012) – Kicking off the first week of December, Orlando locals will officially be able to get their hands on SweetWater Brewery's lip-smackin' lineup of ales. This launch, on the heels of the brewery's recent introduction in the Tampa Bay area, adds to its Florida distribution footprint currently covering the panhandle, Tallahassee, Jacksonville, St. Augustine and Gainesville.

"We are pleased to announce that SweetWater Brewing Company has assigned City Beverages and Wayne Densch, Inc. as our Wholesaler partners for the Orlando/Sanford markets," said Dave Guender, Director of Sales with SweetWater Brewing Company. "The personalized approach to servicing their markets, combined with our vision of growing our entire portfolio and the SweetWater brand overall, were key components of our decision. We feel we have an outstanding opportunity of impacting the craft culture within these two organizations, and being a part of the local craft beer movement in a way that will benefit all of us for the long term."

SweetWater is bringing "the beers you've been training for" to thirsty locals starting with 420 Extra Pale Ale on draft at bars and restaurants, alongside of six packs of SweetWater bottles in the grocery stores, package stores, and specialty bottle shops to include the following brands:

420 Extra Pale Ale – SweetWater's 420 Extra Pale Ale is a West Coast style pale ale with big hops and a crisp finish. First brewed on April 20, 1997, this beer has developed quite the following in the Southeast. 420 is extremely well-balanced which makes it a perfect introduction to a new town…that's why we say "drink 'em if you got 'em!"
SweetWater Blue – SweetWater Blue is a unique, lighter-bodied wheat ale enhanced with a hint of fresh blueberries. This brew'll give folks a good whiff of a blueberry influence, with a subtle taste and an extra clean finish. This ain't no fruit beer, but it is our breakfast beer, and perfect for hanging outside in the Florida heat.
SweetWater IPA – This mammoth India Pale Ale (IPA) is dry-hopped to the gills delivering a kick-you-in-the-teeth hop chop. The brew is unfiltered and, like all of our beers, always unpasteurized to leave all the natural flavors intact. SweetWater IPA recently won first place in a blind tasting against 15 of the best IPA's in the country held by The Atlanta Journal-Constitution.

Get in on the action! A crew from SweetWater Brewery, along with its Founder and Big Kahuna Freddy Bensch, will be flooding the market with sampling celebrations and sponsored festivities the week of Dec. 10. Stay connected to SweetWater's Florida Facebook page at facebook.com/SWHeadyPeddlersFlorida for announcements on events, locations and more details.

Online fans can wet their whistles too by following the Florida Facebook page for details on how to enter SweetWater's "Catch a Trout Tap" contest. The challenge rewards the first 20 folks to spot, capture and post photos of the brewery's iconic trout tap handles around town with SweetWater Schwag.

To learn more about SweetWater Brewing Company and its full lineup, visit www.sweetwaterbrew.com.