Florida has some nifty craft beer spots that I keep on my radar in case I find myself in the area.
Frank & Steins in downtown Orlando was one of those, and I was able to make a lunchtime visit the other day.  It did not disappoint.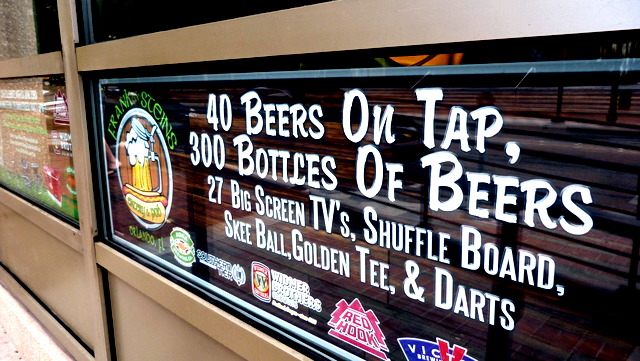 Opened nearly a year ago in spacious quarters at the corner of Magnolia Avenue and Church Street, Frank & Steins boasts a list of more than 300 craft beers, along with wine, cold sake and food. And unlike some other establishments that advertise extensive beer offerings, its list is not "padded out" with beer from the Big Three macrobrewers. There are some mass-distributed imports, such as Heineken, Newcastle and Stella Artois, but the vast majority are made by U.S.  and international craft brewers, including some from Florida.
Beer geeks will find plenty to choose from, and the bartenders and servers know their beer.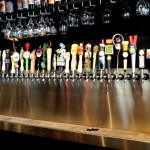 "All of our staff are Cicerone Certified Beer Servers," said Sabrina Resendes, the day manager. "Everyone here knows about the beers and can suggest some good stuff for you."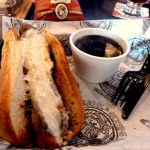 The food menu includes typical pub fare, flatbreads, sandwiches and salads, but the "Signature Franks" are the specialty.  I ordered the French Dip Frank: "1/4 lb. beef frank wrapped in prime roast beef with melted provolone, and our house-made horseradish mayo on a toasted hoagie, served with a side of au jus for dipping."
Yeah, it was awesome.
Giving the place even more beer cred, each frank comes with a suggested beer pairing. I drank something else, but the menu suggested a Lost Coast Downtown Brown to accompany my frank.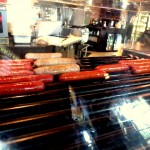 A vegetarian dog is offered, and if none of the specialty franks appeal to you, there's an option to "build your own."
Resendes points out that Frank & Steins is not typical of the nearby clubs in downtown Orlando that cater to the party scene, and sometimes have velvet ropes and doormen weeding out who comes in.
"We try to take care of all age ranges," she says. "We want to appeal to everybody when it comes to what we offer with our beers and our sports and our games, the atmosphere, our music, our food. We want everybody to come in here and sit down and have a good time."
But neither is Frank & Steins a dark and cozy pub.  Big plate glass windows bring in the outside light, there are plenty of tables, and it's a sports geek's dream, with 30 wide-screen TVs tuned to various events.  Skee-ball , bar shuffleboard and other games are tucked away in the edges, and there is a big shelf full of board games that customers can use.  There is no cover charge.
It is a welcoming place. The staff is friendly and helpful, and it truly is family-friendly – I watched several toddlers and stroller babies come through the door with their families during the time I was there.
But it's also a place where many a macro drinker has been introduced to more flavorful brews.
"We're always trying to get people who don't like to go outside the norm," Resendes said.  "Come into Frank & Steins, let us suggest a beer, and see if we can't get you drinking something a little better."
Frank & Steins will celebrate its first anniversary with a block party on Saturday, June 23, 2012, starting at 5 p.m. There will be live music and a DJ, three craft beer tents, a full liquor bar and plenty of food.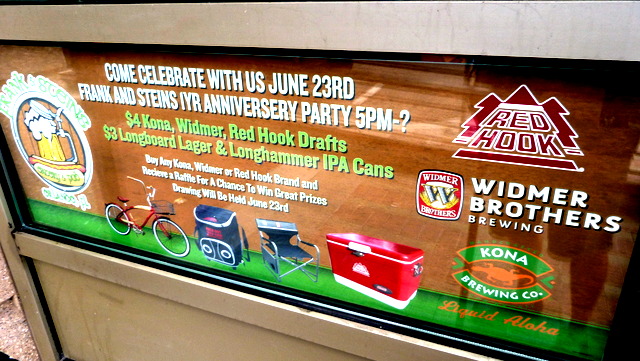 You can follow the pub on Facebook and Twitter to learn about events and specials. Click here for some more photos from my visit.