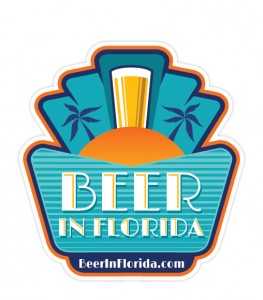 Florida craft breweries continue to open at a dizzying pace, according to the latest update of this site's Florida Brewery Map and List.
The previous update on April 30 revealed 139 operating breweries in the state, with 28 on their way to opening.
Now, the count has zoomed to 152 operating breweries as of this date and 33 slated to start brewing in the near future.
Since April, only one brewery has moved to a "closed" status – Brooksville Brewing Company in Spring Hill, which originally opened in 2003 as St. Sebastiaan Belgian Microbrewery. That operation closed after a few years, and re-opened under a few different entities since, none of which proved particularly successful. Its federal brewers permit has expired, therefore it cannot brew beer for sale. If anyone is aware of any new developments regarding the property, please let me know.
Sidenote: While researching St. Sebastiaan's opening date, I came across a 10-year-old Dunedin Brewing Guild newsletter featuring a piece about the brewery written by Nelson Crowle (one of the founders of WhatsOnTapAt.org). One of the brewers at St. Sebastiaan's was Bob Haa, Jr., now the head brewer at the immensely successful Motorworks Brewing in Bradenton.
Is there room to grow?
With the state's brewery numbers expanding so rapidly, some might wonder if Florida can support many more. After all, Florida came in fifth in the number of new breweries opened in a state during 2014, with 42.
But take this into consideration: According to statistics compiled by the Brewers Association trade group, Florida ranked fifth in the U.S. for barrels of craft beer produced (1.13 million) yet ranks 43rd in number of breweries per capita, with 0.8 per 100,000 residents age 21 or older.
Plenty of room.
The 33 breweries-yet-to-open cited above includes only those with physical addresses. There are at least that many more – that I know of – still looking for real estate and moving through the licensing bureaucracy at local, state and federal levels.
Will we hit the 200-brewery mark by the end of 2015? It's entirely possible.
Here are the criteria I use for a brewery to be included on the map:
The brewery or brewpub must produce beer on its premises. This means you will not find companies such as The Abbey Brewing Co. in Miami Beach or Fantasy Brewmasters in Fort Myers that contract their beer at other breweries.
It does include breweries such as Grayton Beer Company in Santa Rosa Beach, which opened a new brewery last year and no longer contract brews, and Holy Mackerel Beers, which still contracts the bulk of its production, but opened The Mack House brewpub in Fort Lauderdale in 2013.
It includes two brewpubs – Karibrew in Fernandina Beach and Marco Island Brewery – whose brewing processes are completed on site but started elsewhere.
In the case of Barley Mow Brewing Company in Largo, there is the original brewery/taproom and another location that is production only, without a tasting room. In this, both locations are listed.
It does not include BJ's Restaurant & Brewhouse locations, which does not brew at any of its restaurants. The chain is one of the brewing partners at BrewHub, the operation in Lakeland that offers brewing and marketing services for other breweries, and contracts at some out-of-state breweries as well. (BrewHub is on the map.)
Cideries and meaderies are not included, though I might create a separate section for them in the next update.
To be included, a brewery or brewpub must have a physical address – it would be hard to map it otherwise – and if not yet open, it needs to have made solid steps such as ordering or installing equipment, or starting the regulatory process. A website or Facebook page is ideal, though not required. Most have them and are linked.
Other maps and lists out there are based on different criteria.  The Florida Brewers Guild lists those breweries and brewpubs that are members. Others list breweries that haven't made any steps toward opening other than filing as a business entity, sometimes years ago, with no progress since.
This map is a labor of love for me because I am passionate about my home state and its craft beer community. Friends and fans of this site offered invaluable help in tracking down some of these, and I am extremely grateful. I feel it is the most accurate listing of its type out there, but it has become a LOT of work.
I do get a little financial help via sponsorships, but if you feel it is of value to you, I would not object if you were to drop a little change to help using the "Donate" button on the right column of this page.
Speaking of sponsors, thanks go out to Tampa Bay Brews Cruise, Tampa Bay Brewing Company, JDub's Brewing Company, Coppertail Brewing Company, Dahlia's Pour House, and St. Pete Brewing Company.
Anyone interested in becoming a sponsor can drop a line to gerard@beerinflorida.com, and I'll send the details.
As always, I appreciate any feedback if I missed a brewery, have one listed as opened that has closed, or made any other errors. Send me an email or leave a comment below.
Cheers!
Gerard