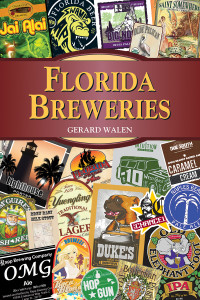 A long road has been traversed that involved thousands of miles, dozens of beers and visits to every brewery in Florida from Key West to Pensacola for conversations with brewers, owners and managers.
My book has been written.
I just sent the final chapters of "Florida Breweries," one of the Stackpole Books Breweries Series, to my editor.
Scheduled for release on April 1, 2014, (no fooling!), the travel guide includes chapters on 66 breweries and brewpubs, along with a lot of what I hope are interesting tidbits about Florida's beer history, culture and community.
I don't expect to get rich from this venture, but it was a blast to "research" and to write. There are some great stories out there, and I feel honored to be able to tell some of them. The book is now available on Amazon for pre-ordering
– at a discount – if you want to be one of the first to get a copy.
Any breweries, bars, book stores, food trucks, shoe shops or convenience stores who would like to pre-order in bulk for resale can contact Sarah Wolf at swolf@stackpolebooks.com.
As the release date gets nearer, I would be glad to schedule book signings. If you're interested, please contact me directly at gerard@beerinflorida.com.
Oh, and now that this project is near completion, you can expect to see a lot more action on this blog.
Cheers!
Others in the Breweries Series.
New York Breweries: 2nd Edition

Colorado Breweries

California Breweries North

Massachusetts Breweries

Ohio Breweries

Indiana Breweries

Pennsylvania Breweries: 4th Edition
New Jersey Breweries
Michigan Breweries

Virginia, Maryland & Delaware Breweries