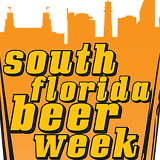 The year 2013 promises even more craft beer for thirsty Florida beer geeks. New breweries are scheduled to come online, more festivals will be announced, but one of the best parts is the continuance of a trend that started last year in the Sunshine State: Beer Weeks.
These celebrations of an area's vibrant craft beer community begin Saturday, January 26, in South Florida. Here's the text of the email that organizers sent to Beer in Florida.
That's right – it's back!

The Second Annual South Florida Beer Week is coming, bringing with it a plethora of local beer events from Jupiter to Miami. This week of festivities will kick off on Saturday, January, 19 and will culminate with the Jupiter Craft Brewers' Festival on Saturday, January 26.

Unlike other beer weeks, South Florida Beer Week will focus solely on breweries founded right here in sunny Florida — breweries such as Cigar City, Native, Tequesta, Due South, Holy Mackerel, and Inlet. In addition, SFBW will feature exciting premier tappings from up-and-coming breweries like Oakland Park's Funky Buddha, as well as limited beers from Florida breweries that do not regularly distribute in Palm Beach, Broward, or Dade counties including 7eventh Sun, Green Room, Mile Marker, and more.

"The inaugural South Florida Beer Week this past January was a huge hit," says Adam Fine, General Manager for Brown Distributing Company's Specialty Division, South. "But for 2013, we plan to hold an even more exciting lineup of events, from pub crawls to brewery tours. Each of these events will be themed around one thing: promoting great local beer from the State of Florida."

These fantastic local brews will be on display at a multitude of events including beer pairing dinners at award winning restaurants, tap takeovers at bars such as Tap 42 and Laser Wolf, a pub crawl for charity in downtown Hollywood, and a brewery bus tour that will stop at four of South Florida's most exciting breweries. South Florida's craft beer fans will also get the opportunity to learn more about beer at educational classes and tastings at participating Total Wine and Whole Foods locations.

A complete list of events – as well as a regularly updated blog with interviews, news, and more – is available at southfloridabeerweek.com.
Here are dates and links for some of the others.
If any more are announced during the year, I'll make sure the details are posted on this site.