"I'm planning a trip to Walt Disney World. Where can I find good craft beer at Disney?"
That is one of the most frequently asked questions sent to Beer in Florida, and I usually respond with a few suggestions of stores and bars in the area, as well as a handful of on-property sites that I know serve some craft beer along with the standard macrobrews.
But I just came across an iPhone app that will make answering questions about Disney and beer a lot easier: Beers and Ears Walt Disney World Beer List.
This easy-to-use  app makes finding beer on Disney World property a breeze, and just a few minutes of playing with it educated me on the wide variety of craft beers available there.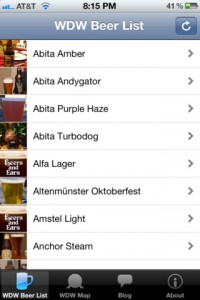 For instance, did you know that the Le Cellier Steakhouse in Epcot's World Showcase serves several Unibroue beers? It's in the Canada pavilion, naturally. In the mood for a Young's Double Chocolate Stout? Pop in to Raglan Road Irish Pub & Restaurant at Downtown Disney. Thirsty for Terrapin Rye Pale Ale? The ESPN Club at the Boardwalk Resort has it.
Raglan Road and the ESPN Club both boast impressive beer lists, at least for a theme park property, and the ESPN Club  is handily just a few doors down from Big River Grille and Brewing, the only brew pub on Disney property and a bronze medal winner at the 2011 Great American Beer Festival for brewer Kent Waugh's Rocket Red ale.
The iPhone app has a list of beers that you can scroll through. Tap on the beer, and a window comes up with where it is served. Tap on the venue, and it pulls up a list of all the brews being served there.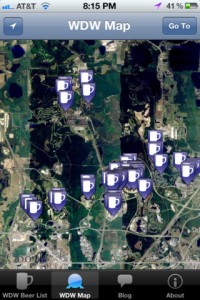 There is also a map with handy "beer mug" pins to find the closest beer.
Locally brewed beers include offerings from Orlando Brewing and Lagniappe Brewing (Effinheimer), and at Raglan Road and the Cabana Bar and Beach Club at the Dolphin Resort you can even buy a Cigar City Jai-Alai IPA to quench your thirst after a long day at the parks.
Beers and Ears has a website as well, and you can learn more about the app there.
I go to Disney World fairly frequently (after all, I'm married to Theme Park Mom) and I'm looking forward to giving the Beers and Ears app a test run next time.
Oh, and the best part? It's free.
If you download it and use it, or if you have used it, share your thoughts below in the comments.
Here's an interview with the app's developer.