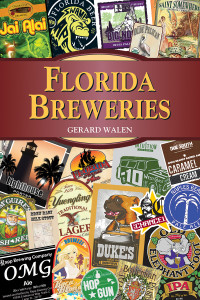 Time for a big announcement.
The book release launch party for "Florida Breweries" has been set.
Mark your calendars for Thursday, April 3 from 5:30 to 8 p.m. at Copp Brewery & Winery in Crystal River. Copies will be available for purchase (likely $19.95 each) or if you've pre-ordered from Amazon.com
and the book arrives in time, bring it along and I'll be glad to personally autograph it for you.
Why Copp? Why not a larger, better-known Florida brewery?
A few reasons. I live in Crystal River, for one. Head brewer Fran Copp was the first person I interviewed for the book, shortly after they opened the brewery and not long after I moved to the area. Since then Fran and his wife, Donna (who makes the wine), and many of their regulars have become good friends, encouraging me and helping to keep me sane when the writing got too overwhelming. You can find me there most every Friday night when I'm in town, and maybe a time or two during the week.
Plus, he makes great beer. His brews won one silver and two bronze medals at the 2013 Best Florida Beer Championship, and his 1821 ESB won this year (color to be determined).
I hope to see you there. (I've heard there may be cupcakes).
The other confirmed book signing so far will be Thursday, April 17, also in Crystal River at Burkes of Ireland, another fine craft beer establishment that in the near future will be serving its own beers.
There are a couple of other appearances in early April that I've yet to fully confirm. But if you can't make it to any of those, fear not. There will be others across the state, which you will hear about on the Facebook page, Twitter, on the Beer in Florida Events Calendar and on my Amazon Author Page. (You can learn more about the book there).
In addition, I will be doing "pop-up" signings when I make unplanned stops at beer establishments (you'd be surprised how often that happens). I'll announce those on the Facebook page and Twitter as far in advance as possible.
If you'd like to schedule an appearance at your establishment or are a media outlet who would like to reach out, contact me directly at gerard@beerinflorida.com or call 941-544-3137.
By the way, though I've thanked many people by name in the book's acknowledgements, I am so grateful for all of you who have offered support and encouragement along the way. You know who you are.