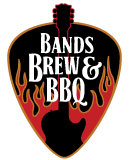 Busch Gardens Tampa Bay has announced the 2013 beer lineup for its annual Bands, Brew & BBQ, and there are some impressive brands on the list, including some brewed right here in Florida.
The event, scheduled for Sundays from February 10 to March 3, 2013, features a lineup of musical acts from various eras – John Kay & Steppenwolf, Barenaked Ladies, The Doobie Brothers and the Goo Goo Dolls – along with a variety of vendors dishing up tasty barbecue creations.
A  far as the beer portion, Busch Gardens promises "over 100 craft brews," but that's not necessarily accurate, at least according the definition of a "craft brewer" by the Brewers Association.  The top of the list is heavy with offerings from the Belgian-American conglomerate AB-InBev, but remember: The theme park does have "Busch" in the name. In fact, it was owned by Anheuser-Busch before it was sold to a private equity company a few years back.
Look at the list though, and you'll see some beers from American craft breweries now carried by local Bud distributor Pepin Distributing Inc. Among them:  Victory Brewing Co., Southern Tier and Blue Point Brewing, as well as some breweries that started selling their beers in the state during the past year, such as Green Flash and Sweetwater.
Florida's beer companies are well-represented, too, for a theme park event. Expect offerings from Tampa Bay Brewing Co., Pensacola Bay Brewery, Big Storm Brewing, Cold Storage Craft Brewery, Frog Hair and even Jacksonville's Bold City Brewing.
Wristbands are $30 per person (ages 21 and older), or two for $50 for Busch Gardens Tampa Bay Pass Members, and also include sampling privileges at the Desert Grill restaurant, Crown Colony pub and Zambia Smokehouse. The unlimited sampling will be from noon to 5:30 p.m. each Sunday. There is also a VIP option that includes prime seats for the day's concert and other perks.
Though I have not attended the Busch Gardens wing-ding in years past, I have been to the similar event at sister park SeaWorld Orlando, and even a couple of years ago, the beer selection impressed me. The SeaWorld version is set up a bit differently than Busch Gardens', but it will take place on Saturdays and Sundays from February 9 – March 17, 2013. The beer list for this year's event at SeaWorld has not been released yet, but you can check back at this link to keep updated.