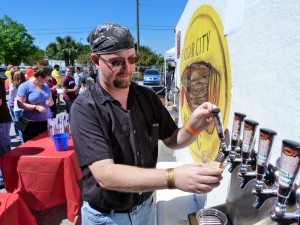 Along with heavy traffic, too many obnoxious visitors and packed restaurants, tourist season in the Sunshine State brings some measures of happiness to those of us who live here – besides the weather.
Beer festival season is upon us, and in perusing the calendar, I've noticed that there is at least one festival in Florida on the next five weekends.
I hope your liver is ready. Here's what's coming up. Click on the links for more info.
Saturday, February 11
Third annual Deland Craft Beer Festival, 1 to 5 p.m., Deland: More than 70 craft beers, a rare and vintage beer table, homebrew competition, break out sessions and tons more.
Saturday, February 18
Brewz Crewz, 5 to 9 p.m., Munn Park, Lakeland: More than 75 craft beers with local restaurants adding their flavor to the mix. Speakers from homebrew clubs and local breweries will be on hand teaching about beer and how it's made. VIP and General Admission tickets will give access to the event but only VIP will get you access to rare beers from Cigar City and others.
Fifth annual Bradenton Beer Festival, 400 Old Main St., Bradenton: Samples from local, national and international breweries.Tasting glass and samples from local food trucks included in $30 ticket, or you can buy a $10 ticket for food-truck tastings only.
Saturday, February 25
Florida Craft Brew and Wingfest, 11:30 a.m. to 5 p.m., Vero Beach: A different kind of beerfest. Families welcome, no need to buy a wristband if you don't want to, individual beers will also be sold. Also a dozen different restaurants will compete in a wing contest. Brown, Southern Eagle, and JJ Taylor will all have beers at this event.
Stogies & Stout 2012, 7 to 11 p.m., Dunedin Brewery, 937 Douglas Ave., Dunedin: Join Dunedin Brewery for a night of stout beer, cigars, and blues music. Admission includes a commemorative glass, choice of cigar, and access to 28 stouts. Tickets sell fast. $35 admission includes a commemorative glass, choice of cigar, and a generous sampling of all available stouts.
ADDED The second annual Space Coast Beer Festival, 2 to 5 p.m., (1 p.m. start for VIP), Palm Bay: More than 56 breweries expected. Winner of the "favorite brewery" vote will be featured in March at the Broken Barrel Tavern.
Friday, March 2
ADDED City Link Boca Beer Fest, 6 to 11 p.m., Mizner Park, Boca Raton: Sample more than 100 of the world's best brews and a selection of wine, enjoy live performances by local bands and nosh at a variety of food trucks. Tickets are $20 in advance and $25 at the door; VIP tickets are $35 in advance and $40 at the door.
Saturday, March 3
2012 Florida Brewers Guild Beerfest, 2 to 6 p.m., Centro Ybor, Tampa: Sample more than 100 Florida-made craft brews at this wildly popular event held rain or shine in Centro Ybor. This event sells out every year, so get your tickets early. Advance tickets $30, day of (good luck) $40.
Saturday, March 11
Hunahpu's Day, 11 a.m. to midnight, Cigar City Brewing, 3924 West Spruce Street, Suite A, Tampa: Cigar City Brewing will be releasing Hunahpu's Imperial Stout. Just like the previous two times the brewery released it, the entire day will be devoted to its release. Expect several guest beers and other exciting stuff on tap, as well as special Cigar City offerings.
The latter two festivals are part of the inaugural Tampa Bay Beer Week. Go to its Facebook page for a full slate of events.
Trivia question: What do these festivals have in common other than a lot of great beer? Answer: They are all listed in the Beer in Florida Statewide Events Calendar. Be sure to add your beery events via this handy online submission form.