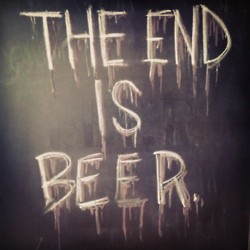 Will the Mayan Apocalypse come about on Friday, December 21?
Some folks believe it will; most don't. But that doesn't mean we can't enjoy a few tasty craft beers, just in case, and a few more the next day if we survive.
Following is a list of various Florida craft beer venues that are hosting pre- and post-Apocalypse ceremonies. If you know of more, please leave a comment with a link to an information page.
Good luck to us all.
For a Final Toast:  Friday, December 21
For the Survivors, Saturday, Dec. 22
Apocalypse Survivors Gathering will be held at Rapp Brewing Co. in Pinellas Park from 4 to 8 p.m.   Here's what they say about it: "Join us and fellow survivors to celebrate a new beginning, or if nothing happens … just to get together and have a beer! Beer specials and probably some food – need to get rid of that doomsday stockpile."
Mayan Schmayans will take place at 8 p.m. at the Cock & Bull in Sarasota. The Facebook page confidently states, "The world ain't ending and neither is the great music, delicious beers and good times! Come out and celebrate. Doors open @ 8:00 p.m. $5 21 & up; $7 20 & under. Special Performances by: Seven Years Past, A Gentlemen Army and Sugar Phix."
"Vierge" Day!  at Saint Somewhere Brewing Co.  in Tarpon Springs is always a blast during their "Occupy" events and a great place to celebrate the end of the word not happening.  Here's what to look forward to:  "Celebrating the time, last year, when the keg of "Vierge" lasted longer than we thought it should have. You got a better reason to celebrate? I didn't think so. We have an assortment of Vierge kegs from last year along with a few Vierge "Reloads". Maybe a food truck. If you survive the end of the Mayan calendar the day before, this gives you cause to celebrate "Vierge"! As with all our events, bring a nice dusty bottle from your cellar to share! Vierge Day is $10 and gets you one of our NEW Saint Somewhere glasses along with three tickets for 10 oz. each of our Farmhouse ales with the tour." According to the Facebook page, festivities start at 6 p.m.  and end at … 5 a.m.? That must've been a helluva party last year.
But, of course, all times are dependent on whether the Mayan Apocalypse actually happens.