Welcome to Beer in Florida.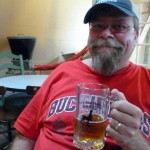 Since early 2010, I've been the editor of  Road Trips for Beer, an online travel magazine dedicated to the beer-loving traveler.
I'm based in Florida, specifically the Orlando area, the most popular tourist destination in the world. And a lot of those tourists get thirsty.
During the course of traveling across the state, I've found a lot of small pubs, bars, breweries and restaurants whose owners strive to broaden the craft beer culture in the Sunshine State. These establishments do not necessarily fit into the wider framework of Road Trips for Beer, but still I shoot pictures and take notes.
I intend for Beer in Florida to be an outlet for those stories, but it will be more. I envision complete-as-possible lists of bars, breweries and restaurants in Florida, an interactive events calendar, videos, photo galleries, and more.
Beer in Florida will also be an advocate and cheerleader for the state's burgeoning craft beer scene. Florida no longer deserves the label of "craft beer wasteland." There are a lot of new and exciting developments, seemingly every day, and  I'll try to stay on top of those and get the news to you in a timely manner.
As Beer in Florida develops, I'd love to hear from you. Contact me with suggestions, tips and feedback.
Cheers!
Gerard Walen
Beer in Florida is an independent project of Gelegra Media LLC. It is not affiliated directly with Road Trips for Beer, its owners or any of their business entities.