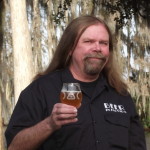 Beer in Florida serves as an advocate and source of information for the state's burgeoning craft beer scene and for beer tourists planning trips to the Sunshine State.
I founded the site in early 2010, and using it as a springboard, traveled in 2013-13 to 66 of the state's breweries as part of the research (the fun part) that went into writing my first book, Florida Breweries (Stackpole Books April 2014)
. You can learn more about the book here. If you are interested in a personally signed copy, here's more information on that, or show up at one of my book signings. The schedule can be found here.
The site includes a map and list of breweries that is updated about every 2-3 months, an interactive events calendar, videos, reviews and previews of new breweries, beer festivals, beer weeks and more.
Here is the contact information page for Beer in Florida.
Remember: Drink Local. Drink Florida.
Cheers!
Gerard Walen