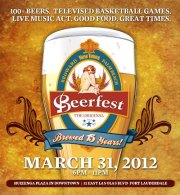 FINAL UPDATE: Roger Brown won the tickets in a second drawing after the original winner could not attend. Congratulations!
UPDATE TO UPDATE: Nancy could not use the tickets. A new winner will be announced shortly.
UPDATE: The winner of the tickets to the New Times Beerfest has been picked. Congratulations to Nancy Reid!
As Florida's craft beer scene grows, so does the beer festival calendar. Most of the craft breweries here are relatively young, and most of the festivals are as well. But just as we have a few longtime breweries such as Tampa Bay Brewing Company, Dunedin Brewery and Orlando Brewing, there are a handful of festivals that have grown up along with the craft beer community in the Sunshine State.
Such is the case with the New Times Beerfest in Fort Lauderdale, which will happen for the 15th time on Saturday, March 31, 2012, from 6 to 11 p.m. The festival has grown so popular that organizers had to move it to a larger venue this year, and those same organizers have made available to Beer in Florida a pair of tickets to give away to one lucky fan. More on that further down but first, here's a little of what you can expect at the fest:
A new, more spacious venue at Huizenga Plaza, 32 E. Las Olas Blvd.
More than 100 local craft and imported beers available for unlimited sampling.
National act Dirty Dozen Brass Band will perform at 9 p.m., with local favorite Jacob Jeffries band opening.
VIP access includes liquor samples, food from local restaurants and special beers, including one brewed exclusively for the festival's 15th anniversary by BX Beer Depot.
College hoops fans won't have to miss any Final Four action because the games will be shown on a Jumbotron screen in special viewing area.
General admission tickets are $30 in advance and $40 at the door. VIP tickets run $65 in advance and $75 at the door.
To win a free pair of general admission tickets from Beer in Florida, follow these instructions carefully.
First, you must be 21 or older.
For an entry, leave a comment below telling us what you're most looking forward to at the New Times Beerfest.
For additional entries, you can take the following actions and leave a separate comment for each one.
Each comment will be considered one entry.
The winner will be chosen Monday, March 26, 2012, at 6 p.m. using the Random.org service and notified via email. If a response is not received by noon on Tuesday, another winner will be chosen.
Good luck!