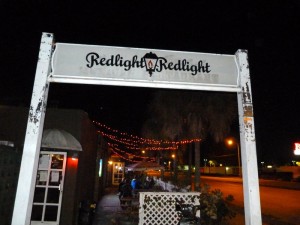 Lights! Cameras! Pour!
A new craft beer show based in Central Florida will debut Monday at Redlight Redlight, the world-renowned Orlando beer bar.
"Fermented" will air on iZonOrlando.com, which bills itself as "Orlando's FIRST Online TV Network."
Here's the pitch from the IZonOrlando website: "Pull up a barstool and pour a pint — then join us! The name says it all as this show celebrates all things fabulously fermented, from craft beer to craft foods. If you find yourself lost and confused when it comes to choosing the right beer or pairing your beloved brew with some snacks, we're here to help. Keeping our feet firmly planted in the world of craft beer we'll feature some of the great artisans that call Central Florida home while looking at the latest and greatest fermented products from across the globe. And then we'll put our picks to the test with a panel of judges."
The show is co-hosted by Redlight Redlight owner Brent Hernandez and Lucas Widrick, assistant manager and the writer of the A Night with the Hops blog.
Widrick said the pilot episode focuses on "styles of beer that are good for hot weather drinking," a subject that will remain near and dear to those of us in the Sunshine State for some time to come.
"We are making it as a show to simplify the world of craft beer for those who are overwhelmed when walking into a place with tons of taps and hundreds of bottles," he said.
But future episodes will not focus exclusively on beer styles.
"The name of the show is purposely generic as we also hope to take advantage of local artisans making cheese and bread and all of the great things that fermentation helps us enjoy (and that go well with beer)," Widrick said.
The screening of the pilot episode will begin at 9 p.m. Monday, August  29, 2011, at Redlight Redlight, 745 Bennett Road, Orlando. If you're planning to go, you might want to arrive a little early: Widrick said he and Hernandez will likely talk about the show before it starts. Flights of the beers featured in the pilot will be available for purchase afterward.
Here's a sneak peek:
Fermented Promo