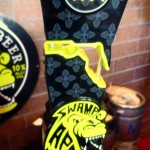 The last few days of 2011 have brought a run of great news about the future of craft beer in Florida.
I want to get the info out to you, so here's a quick rundown on what's going on, along with links to more information.
The Florida craft beer culture grew by leaps and bounds in 2011, and it looks like 2012 will bring even more. It's an exciting time to be a beer geek in the Sunshine State.
Happy New Year to all!