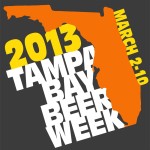 It's only the third official day of Tampa Bay Beer Week, and my liver is already looking forward to the end of it. The rest of me is loving it, though.
Rather than writing about the events I attend, I'm bringing along my still-trusty Flip video camera and plan to post short videos as the week moves along.
In direct contrast to the preceding statement, this first video clocks in at more than six minutes, but there were a lot of things going on at the Florida Brewers Guild Beer Fest on Saturday. And it includes an exclusive interview with Tampa Mayor Bob Buckhorn, who talks about his love of fermented beverages and the importance of the area's craft brewing industry to the local economy.

Beer in Florida is an official sponsor of Tampa Bay Beer Week.
You might enjoy reading our Top 6 Must-Attend Tampa Bay Beer Week Events.
Tampa Bay Beer Week Events Calendar.