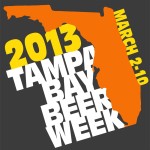 Monday evening brought me to the Pinellas County side of Tampa Bay for the Cigars & OMG event at Rapp Brewing Co.
Founder and brewmaster Greg Rapp and his crew poured from bottles of his delicious OMG, a 20+% ABV monster of a strong ale – and, as usual, the 20 taps of his beer in the tasting room.
They also provided complimentary cigars and some food, including a do-it-yourself strawberry shortcake bar.
Another top-notch Tampa Bay Beer Week event. Here's the video.

Beer in Florida is an official sponsor of Tampa Bay Beer Week.
You might enjoy reading:
Top 6 Must-Attend Tampa Bay Beer Week Events
Tampa Bay Beer Week 2013 Day One: Florida Brewers Guild Beer Fest
Tampa Bay Beer Week 2013 Day Two: Eggs & Kegs
Tampa Bay Beer Week 2013 Day Two: Brewers Ball and BFB Championship
Tampa Bay Beer Week Events Calendar