The craft brewery building boom in the Tampa Bay area should have another entry this spring in the form of Rapp Brewing Company in Pinellas Park.
Founder and longtime homebrewer Greg Rapp said he expects his beer to be flowing by the end of May 2012 at the 3,200-square-foot space on Bryan Dairy Road, just a couple of blocks west of 66th Street "in the heart of Pinellas County."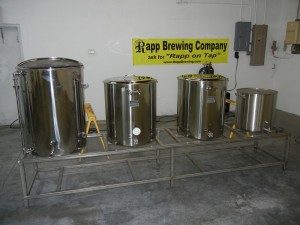 The brewery's plans are in review with the city right now, Rapp said, and much of the brewing equipment is already there.
"I have a 50 gallon system in place, and a dozen fermenters with about 20 barrels worth of fermentation capacity," he said.
According to his plans, those fermenters will get a lot of work.
"What we're going to do is actually brew a large variety of beer instead one or two flagship beers," Rapp said. "We're gonna have 20 taps in the tasting room."
The tasting room will take up about 700 square feet of the available space. Many of Rapp's creations will be classic styles, he said, such as blonde ale, Belgian gold strong ale and gose, derived from an old German beer recipe. Others will include a Russian Imperial Stout and a pilsner.
"I've got a pilsner that won a gold medal in a national championship," he said. "I've got a bunch of medals from the beers I've brewed over the past few years."
One of his brews that Rapp's shared at local beer festivals has been christened "OMG," and it's a monster of an ale that clocks in at more than 20% alcohol by volume, though anyone tasting it might not realize how powerful it is because it's so smooth.
"The first time I actually brought it out into public was at the Cajun Café Craft Beer Festival, and just about everyone who tried it, their eyes would pop out and they would say 'Oh, my God'," he said. "I got the name of the beer from that."
He said OMG will be available at the brewery, but likely only in bottles.
"It's a very difficult beer to brew," he said.
Rapp has been homebrewing for about eight years, but started more than 30 years ago making wine, mead and sake. He founded the homebrewing club PUB (Pinellas Urban Brewers) Guild a couple of years ago, then after 30 years in the information technology world, he left to open his brewery.
He credits the members of PUB. with helping his development as a brewer.
"I've learned a lot from that group," he said. "There are some very talented people – people that have expertise in different areas of brewing. Some are specialists in hops, others in fermentation, others in malt, others in equipment and so on. So I plan on using this brewery also to continue the PUB. Guild and help the other home brew clubs in the area."
"We'll all win with this. We'll be brewing really great beers."
Rapp said he thinks the brewery is ideally located, not just for locals, but visitors to the area as well.
"It's really in the middle of Pinellas County," he said. "It's convenient to St. Petersburg, convenient to Clearwater, convenient to Tampa. I'm five miles off of Exit 30 on I-275 – a straight shot. I'm about four or five miles from the beach."
Rapp said he wants to work with the local craft beer community to seek feedback while he further explores various styles of beer.  Once he gathers some opinions, he said, he'll then look at further expansion, including sales outside the brewery.
"We'll find beers that people really enjoy, then those beers will then go into distribution so they'll be available on tap in local establishments," he said. "A year from now, we're going to revisit the business plan. I've got the room there to build out the brewery into a 15-barrel system with 30 barrel. fermenters. And if all goes well, I'd say in a year, we'll probably expand out."
"There's also additional real estate where we could expand out to 10,000 square feet if we need to," he added.
A frequent visitor to Asheville, North Carolina, Rapp said he'd like to see this region model itself after that brewery-rich mountain town.
"I'd love to see the Tampa Bay area become and develop into an Asheville-like destination for beer community, so I'm working closely with the other breweries in the area to build that and make it a destination," he said. "We've got great weather, we've got the tourism, we've got the beaches, we've got all."
Rapp will be pouring some of his beer on Saturday at the Florida Brewers Guild Beerfest at Centro Ybor in Tampa, which will also serve as the kickoff event for the inaugural Tampa Bay Beer Week.
You can follow the progress of Rapp Brewing Co. on its website.