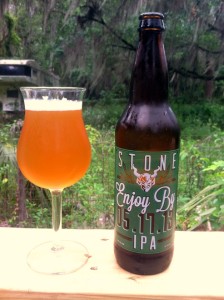 If you've been around to the right bottle stores or pubs, you may have noticed that Stone Enjoy By 05.17.13 IPA has made its way to The Sunshine State. Brewed with 13 different hop varieties, this beer is designed to be enjoyed on or before the date printed on each bottle in order to fully experience the beer's hop-forward flavor and aroma. But there's only one day left to enjoy it because they mean it: Any remaining bottles left on the shelf will be pulled on May 17.
That doesn't mean we can't look forward to the next release.
Stone Brewmaster Mitch Steele implemented several hop infusion techniques while brewing Stone Enjoy By 05.17.13 IPA, including "hop bursting," which adds copious amounts of hops to the end of the boil process to maximize the intense flavors and aromas of hops in the brew. Traces of resin, peaches and tropical fruit are evident in the aroma while the taste brings on an onslaught of hop bitterness.
Stone was kind enough to send a sample bottle to Beer in Florida, and it was amazing. The hops seem to dance on the tongue, bouncing around like a 5-year-old who washed down a dozen Pixy Stix with a liter of Coke for one of the most pleasant beer-tasting experiences I've ever had with an IPA.
According to Stone's interactive map, most of the distribution is in the "I-4 corridor" and South Florida.
But North Florida, the Panhandle and other areas that missed out on this release of "Enjoy By," you can let the Escondido, California, brewery know that you want it.
Stone is measuring interest for the beer through the company's social media platforms: Facebook, Twitter, Instagram, and the Stone Enjoy By IPA website. Beer enthusiasts can express their desire to have Stone Enjoy By IPA back in their city or state by using any or all of the aforementioned social media sites. Hopheads are encouraged to comment, tweet, post and share with fellow craft beer fans using the hashtags #EnjoyBy #FL. All engagements can be viewed in real time at the Stone Enjoy By IPA website.
Here are some notes supplied by the brewery.
Name: Stone Enjoy By 05.17.13 IPA

URL: stonebrewing.com/enjoyby/

Stats: 9.4% ABV, 88 IBUs

Availability: Limited 22-ounce bottles and draft, beginning the week of April 15

Hops bill: Ahtanum, Calypso, Super Galena, Simcoe, Delta, Target, Amarillo, New Zealand Motueka, Citra, Cascade, New Zealand Nelson Sauvin, Australian Helga and Australian Galaxy

Tasting notes, provided by Stone Brewmaster Mitch Steele

Appearance: Golden with a creamy white head.

Aroma: Intense dank hoppiness, resin, peaches, and hints of tropical fruit are all evident in the aroma.

Taste: Smooth malt up front, quickly dissipating into a massive onslaught of hops. The dankness and peach notes come through strongly.

Palate: Smooth with hints of alcohol, and a perfect balance of bitterness and dryness on the back end.

Overall: We took the opportunity with this beer to use several interesting techniques we've learned during our many years of brewing great double IPAs. The result is an intense dry beer with very little malt sweetness, but with plenty of malt flavor to provide a background to the enormous…or shall I say "ginormous" hop character. Hopping, as might be expected, was over the top. First, the brew was mash-hopped with Ahtanum, one of our favorite hops that is the signature hop in our Stone Pale Ale, after which we kettle-hopped with a very small dose of Super Galena hop extract for bittering. Then, using a technique known in homebrew circles as "hop bursting," we loaded up very heavily on the flavor hops at the end of the boil and in the whirlpool. Simcoe, Delta, Target and Amarillo were used in the late kettle hop. Citra, Calypso, and Cascade were used for the whirlpool hop. As you can clearly tell, this beer was super hoppy even before we dry-hopped it, but then we went for it … dry-hopping with two pounds per barrel total of a blend of Southern Hemisphere hops, predominantly Nelson Sauvin, Galaxy, and Motueka. Drink extra-super-dank-and-tasty Stone Enjoy By 05.17.13 IPA well before its shelf life to maximize the pungent glory that this beautiful, intense hop profile provides.

 Suggested food pairings, provided by "Dr." Bill Sysak

Appetizers: Guacamole, kimchi, salt and pepper shrimp (or tofu), sausage-stuffed jalapeños

Main course: Chicken-fried steak, Merguez sausage, gumbo, chile relleno, Thai drunken noodles

Dessert: Carrot cake, peach cobbler, ginger spice cake, pumpkin cheesecake

Cheeses: Parmigiano-Reggiano, extra aged Cheddar, Rogue Creamery Caveman Blue, Mimolette

Cigars: Alec Bradley Trilogy Authentic Corojo, Altadis U.S.A Edición Limitada, Camacho Select