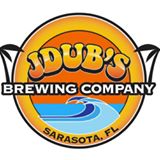 Florida craft beer's plan for national domination continues with the announcement that Sarasota's JDub's Brewing Company will start distributing some of its portfolio in Indiana.
The move was announced by the Indianapolis arm of Cavalier Distributing. The distributor, one of the few in the country with a portfolio that is exclusively U.S. craft and imports, is headquartered in Cincinnati and has a warehouse in Lakeland.
OK, I'm not sure if there is an actual plan for national domination among Florida's craft breweries, but these types of announcements certainly are coming more frequently.
Here's the release:
Indianapolis – The Sarasota-based craft brewery JDub's Brewing has announced plans to distribute their brews throughout Indiana as soon as the brand registration is complete. JDub's has partnered with Indianapolis-based Cavalier Distributing as their distributor for the state.

"JDub's is extremely excited to begin sending limited amounts of our beers into the Indiana market. Obviously, the craft scene is alive and well in Indiana and we're humbled by the opportunity to offer our beers amongst the great Indiana state brewers. We also think it's awesome that this will allow our friends from Indiana who visit Sarasota during the winter months to enjoy our brews in their home state, said JDub's Founder/CEO Jeremy Joerger.

Cavalier will distribute a limited amount of draft only versions of JDub's year-round beers Up Top IPA, an American IPA with an ABV 6.5%, and Poolside Ale, a Kolsch with an ABV of 4.5%. JDub's is the first Florida brewery included in Cavalier's portfolio.