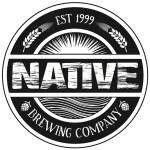 The founder of a Florida-based beer company, which has contract-brewed its offerings for years, announced today that he will bring it home to South Florida and open a brewery.
Adam Fine started Native Brewing Company in 1999, eventually putting four year-round brands on store shelves or taps – Native Lager, The Eleven Brown Ale, Glades Pale Ale, and Thunderhead Red (draft only). The beers, however, were brewed at Florida Beer Company, now in Port Canaveral; Shipyard Brewing Company in Portland, Maine; or Thomas Creek Brewing in Greenville, South Carolina.
Fine also started beer distributor Fresh Beer Inc., he wrote in a newsletter today, "as a method to be able to sell my own craft beer and not rely on the established distribution network that existed and really didn't understand craft beer at all."
It proved such a success that the big distributors, finally getting wise to the growth of craft beer, came knocking. So five years ago, Fine reached an agreement with Brown Distributing that allowed him and his team to say onboard to guide the craft beer market growth.
Brown now carries a wide variety of craft beer throughout the state. Fine announced his departure from Brown today in the company's Fresh Beer Times newsletter:
"While I have enjoyed this distribution ride for the past 15 years, I am going to take the next step in my own personal evolution and put my stamp on the local beer community right here in South Florida with the Native Brewing Company. Native has been along for the ride since the beginning and it is now time for me to devote my full attention and take the brand to the next level. Hopefully, I will get to see all of you out there at my brewery in the future. I think you all will know where to find me."
Fine, a Florida native, told me that he is seeking a location in the Fort Lauderdale area and plans to start nano-sized. He hopes to make the jump to larger equipment soon after that. He's currently dealing with the city and transitioning from his Brown duties, but he said he'll post an update on the Native Brewing Facebook page as soon as he can.