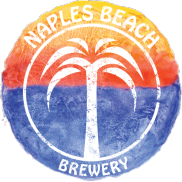 I just received an email from Will Lawson, who is opening Naples Beach Brewery down in Southwest Florida. It sounds like things are moving along rapidly.
Here's what he had to say.
We are excited to report that we have a home!   Our address is 4110 Enterprise Ave., Suite 217, Naples, FL 34104.   It is in the industrial/trades area across from the Naples Airport – east of Airport Road, south of Golden Gate Parkway.   Construction is moving right along.   The retail space/homebrew shop received a fresh coat of paint and we are building the bar that will serve as the checkout counter.

Our storefront window decal has been installed and it looks great.   Thanks to Primal Screen Printing for doing that for us!   You can check out this YouTube video that Will (owner/head brewer) took which outlines the plans for each area of the Brewery. http://www.youtube.com/naplesbeachbrewcam

Also, we did an interview with the Naples Daily News today.   Our article should run in a few weeks.   You can check the website under news & events, we will put up a link as soon as it goes out.

Be sure to check the website often http://www.naplesbeachbrewery.com.  We continuously post new information.   Keep an eye on the store tab … we plan to be adding merchandise soon!
I interviewed Will last year for my Road Trips for Beer site. Here's a link to that interview.