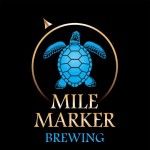 UPDATE: A source who wishes to remain unnamed confirms that Mile Marker Brewing has closed its brewing operations in St. Augustine as well as its tasting room.
An announcement on the Facebook page for St. Augustine's Mile Marker Brewing indicates that its tasting room has permanently closed.
The post reads:
To all of our friends, supporters, customers and fellow beer lovers, our tap room is now closed. (Not opening today, Sunday). Please visit some of the other awesome bars and restaurants that carry Mile Marker beer and tell them we sent ya there! We'd love to know where you are drinking Mile Marker beer! Thank you to everyone, and especially to our regular customers, thank you! Try not to cry in your beer, ok?
It is not known why or if it is in fact permanent, or if it will have any effect on the brewery's production. No further explanation was given in the comments.
I have sent co-founder Mike Fiero an email asking for comment. This post will be updated as needed.