Following around Freddy Bensch for an afternoon feels like sitting in the back car of a rollercoaster trying to catch up with the guy in the front.
The co-founder of Atlanta's SweetWater Brewing Company, a.k.a. "The Big Kahuna,"  is obviously jazzed about introducing the Atlanta brewery's flagship brews to the Tampa Bay area. Starting at The Lime and ending at the Pour House Tampa on Wednesday, Bensch and his crew spread the gospel of 420 Pale Ale to the beer-drinking masses.
Whether he was standing behind a bar pouring samples and teaching customers about his brewery or engaging in conversation with the folks who make the decisions about which beers go on which taps, Bensch never wavered in his message that SweetWater provides the best damn product out there.
"We sell beer as close to home as we can," he told nearly 30 members of the Running for Brews group, who were starting a three-mile run at the Pour House. "We haven't opened up a new market in the past two years, so this is really cool for us."
Then Bensch laid down his credit card to buy the first 20 finishers a 420, even though he and the crew had to leave before they returned.
If you to want to hear Bensch preach the SweetWater testament, the crew will be doing another pub crawl in Pinellas County today, but be warned: The timing is subject to circumstance because he's likely to stop on the way out to convert folks at the bar. He'll also be at the Craft Beer & Crab Festival on Friday, where the collaboration beer with Dunedin's Seventh Sun brewery will debut.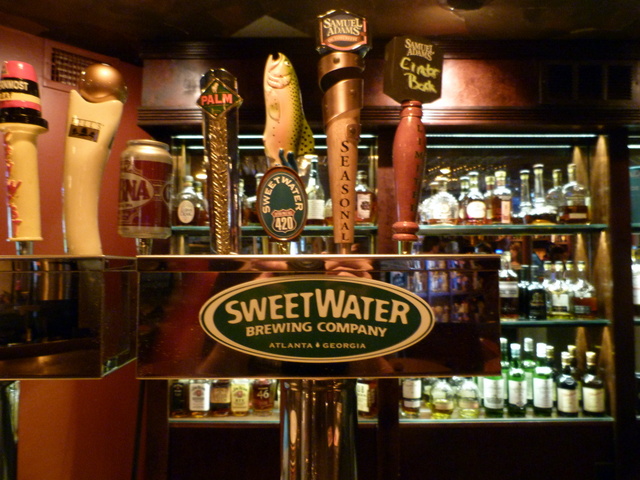 Sweetwater 420 is on tap now in the Tampa Bay area, soon to be joined by the IPA and Blue, which are already available in package stores. Bensch promises that more will follow, including seasonals and SweetWater's acclaimed Dank Tank series.