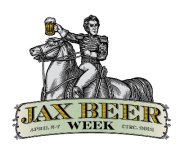 The craft beer-loving folks in Jacksonville are proud of their locally produced brews, and they should be. The Northeast Florida city's beer culture has boomed in the past few years, with breweries, craft-beer bars and restaurant beer lists coming into existence at a fast pace.
To celebrate this growth, Jax Beer Week kicked off Monday and will conclude with a grand tasting from 3 to 7 p.m. at the Mellow Mushroom Southside, featuring beers from Intuition Ale Works, Green Room Brewing, Mile Marker Brewing, Bold City Brewery, Swamp Head Brewery and Cowford Ale Sharing Klub.
Events through the week include tap takeovers, tastings featuring craft beer from throughout Florida, beer dinners and a downtown pub crawl. Click here for a full schedule of events, and follow its Twitter and Facebook accounts for last-minute additions.
Jax Beer Week comes after successful beer weeks in South Florida and the Tampa Bay area already this year. These are great ways to promote the Sunshine State's craft beer culture and attract beer tourists to our state.