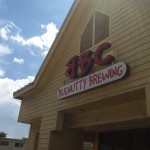 The title of "Florida's Newest Brewery" tends to be passed along at a fairly rapid pace these days, so I couldn't pass up the chance to visit the current titleholder while I was in the area.
Bugnutty Brewing Company held its official grand opening in Merritt Island on Friday, becoming the fifth brewery or brewpub in Florida's Space Coast region, joining Florida Beer Company (soon opening its new facility in Cape Canaveral), Cocoa Beach Brewing Company in Cocoa Beach, and Charlie & Jake's and Intracoastal Brewing Company in Melbourne. Intracoastal held a soft opening just a few weeks before Bugnutty opened its taps.
Three friends – Michael, Shawn and Jon – are the brainpower behind Bugnutty. All three are involved in the brewing. Michael works at nearby NASA; Shawn is retired from the Air Force, where he worked on jets and rockets; and Jon is a former brewer at nearby Cocoa Beach Brewing Company.
Currently, Bugnutty brews on a 2-barrel brewhouse, and five of their beers were on tap during my visit on Saturday: Suzi's Red Belly Ale, Zeus Will Smite Thee IPA, Mike's Milk Stout, Sticky Foot Pale Ale, and Red, Wheat and Blue. The last was my favorite, though I'm usually not a big fan of fruit beers. But the blueberry, though noticeable, was really balanced with the rest of the ingredients. All of the beers were well made and tasted great.
They also had nearly a dozen guest taps, most from other Florida breweries, and there were a handful of empty taps that Michael said would soon be filled with other beers brewed on the premises. Plans call for distribution off premises.
Tucked into an oddly shaped corner unit of a shopping plaza, Bugnutty takes full advantage of its space, with a 90-degree angled bar on one side, table and chairs along the windows, and a "nook" to the side set up with two dart boards. There were two wide-screen TVs high on the deep-red walls behind the bar. Shawn said there will be more soon, to take advantage of the sports packages on their satellite TV system.
Folks living nearby had been waiting for the brewery and tasting room to open.
According to Michael, on opening night "you would have needed a shoehorn to get anyone else in here."
While I was there, two women rode their bicycles over from their nearby home after watching the transformation take place over a period of months, and sat down to enjoy a few of the house brews. They said they were happy it had finally opened. Because of Bugnutty's proximity to the Cape Canaveral Air Force Station, Patrick Air Force Base and Kennedy Space Center, you might be able to join in a conversation at the bar about the latest developments in space exploration, perhaps even with a rocket scientist.
With five breweries now in Brevard County, the local tourism bureau, Destination Brevard, is putting together an Oktoberfest Space Coast Brewery Crawl on Saturday, October 12, to show them all off.
Bugnutty's Brewing Company is at 715 N. Courtenay Parkway, Merritt Island, FL 32953.
Phone: 321-452-4460.
Hours: Wednesday and Tuesday, 3 to 9 p.m.; Friday,  4 to 11 p.m.; Saturday, noon to 11 p.m.; and Sunday, 1 to 9 p.m.
Growlers are available, as is plenty of free parking.