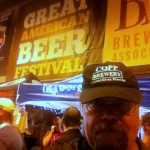 The 2013 Great American Beer Festival is in the books, and I survived it relatively unscathed.
I have several stories coming out of it that will be published either here or on my RoadTripsforBeer.com site (or if I can swing it, a publication that pays me), but I wanted to share an overview of how Florida fared.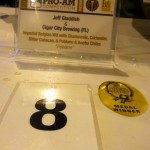 If you've been keeping up, you know that only one Florida brewery brought back a medal from the competition: Cigar City Brewing with local homebrewer Jeff Gladish got the gold in the Pro-Am Competition for their Poblano Wit collaboration.
Florida was well-represented on the festival floor, with seven breweries from the state pouring samples for attendees: 7venth Sun, Cigar City, Darwin's Brewing Company, Due South Brewing, Florida Beer Company, Funky Buddha, and Swamp Head.
The reputations of two Florida breweries preceded them; two of the longest lines at the festival were at the Cigar City and Funky Buddha booths.
Though medals are coveted, it's a tough competition. But even without awards to show for it, some of our state's brewers did not come home without other recognition.
So though our breweries didn't snag the hardware to decorate their walls, I'd have to say that for Florida craft beer, it was still a good show.
If you're curious, you can click here for a list of the GABF medal winners. And for more photos of Florida folks at the fest, click here.
UPDATE: And then there's this, via Brewbound.com.