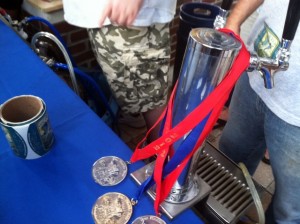 The official results for the 11th annual Best Florida Beer Championships have been posted. Winning brewers received their medals at the Florida Brewers Guild Beerfest on Saturday in Ybor City, and then the winners were announced Sunday during the Brewers Ball at Skipper's Smokehouse in Tampa.
I had a chance to sample many of the beers during the Beerfest, and I know the judges did not have an easy time choosing from among so many quality brews.
Ron Raike of Shipyard Brew Pub in Winter Park took the Best of Show award for his Palm Ridge Wee Heavy. Coming in second is the Pensacola Bay Brew Crew from Pensacola Bay Brewery for their Light House Porter. Third place went to Hunahpu's Stout, brewed at Cigar City Brewing in Tampa by Wayne Wambles, Tim Ogden, Madison Roane and Josh Brengle.
As far as total medals awarded, Tampa Bay Brewing Co. led the pack with 15, followed by Cigar City (12), Pensacola Bay (9), Dunedin Brewery (9), Orlando Brewing (8), Swamp Head Brewery (7), Charlie & Jakes Brewery Grille (7), Shipyard Emporium (5), Yuengling and Sons Brewing Co. (4), Seventh Sun Brewing Co. (4), Saint Somewhere Brewing Co. (3), Alligator Brewing Co. (3), Florida Beer Co. (3), A1A Ale Works (2), Cocoa  Beach Brewing Co. (2), Peg's Cantina and Brewpub (2), Cold Storage Craft Brewery (1), McGuire's Irish Pub (1), and Big River Disney (1).
For the full list of winners, click here.
The FBG Beerfest kicked off the inaugural Tampa Bay Beer Week, which continues through Saturday. The number of Florida breweries represented at the festival increases each year, and there were a few at the festival that have not officially opened their doors yet, including Rapp Brewing Co. in Pinellas Park, Naples Beach Brewery in Naples and Little Giant Brewery in Bradenton. All three of those are shooting for opening in May of this year.
Tampa Bay Beer Week officially concludes Saturday with a variety of events, highlighted by Hunahpu's bottle release day at Cigar City. Unofficially, there are a handful of beery happenings on Sunday, for those whose livers are still functioning.  Click here for the full schedule.
To see some more pictures from the Beerfest, click here.
Shop Amazon's New Kindle Fire