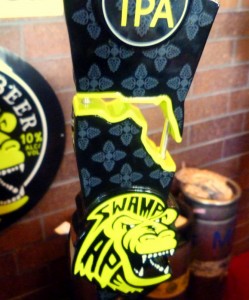 A story in Florida Today reports that Florida Beer Co. will be moving its operations to Cape Canaveral from Melbourne during the next four months.
FBC will move into a 49,000-square-foot facility in Cape Canaveral from its 12,000-square-foot Melbourne brewery, according to the story.
The move will allow the brewery to immediately boost its production to 100,000 barrels per year from its present 30,000 bbl/year, with room to grow to a yearly output of 300,000 bbl, the story says.
Plans for the new location include a 7,000-square-foot tasting room, and a jump from a current staff of 30 to about 70.
FBC recently won a bronze medal at the recent Great American Beer Festival in the American-Style Amber Lager category for its Florida Lager.
The brewery produces several other products, according to its website:  Swamp Ape IPA; Key West Sunset Ale, Pilsner Light and Southernmost Wheat; La Tropical pilsner; Indian River Amberjack and Shoal Draft pale ale; Hurricane Reef Caribbean-Style Pilsner, Lager, Pale Ale and Raspberry Wheat Ale; Kelly's Hard Cider;  and the recently released Conchtoberfest, an Oktoberfest style. ,
It also contract-brews beer under other labels, including Hog's Head Brew, the Scottish ale served exclusively at the Wizarding World of Harry Potter in Islands of Adventure at Universal Orlando.
Read more: "Brevard Brewer Taps into Cape Canaveral" (Florida Today, October 9, 2011).