Happy Hallow-weekend.
As you're out and about enjoying the fabulous weather and spooky beer-related events, remember to watch out for the costumed kiddos traipsing from door to door Saturda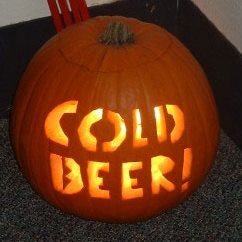 y evening seeking sweet treats from their neighbors.
Also, Sunday at 2 a.m., the clocks move back an hour for the Daylight Saving Time thing. Keep in mind that if you're out Hallow-partying in a place where beer sales are allowed until 2 a.m. or later, that's an extra hour of imbibing, should you so desire. Just be careful, and drink responsibly. Though I didn't really need to tell you that, right? You're a smart crowd.
On to the bites:
Maui Brewing Company, the Kihei, Hawaii-based brewery, announced that it is expanding distribution to Florida. They signed with Cavalier Distributing. The beer should be on the shelves starting November 2, and a bash to mark the launch will be November 6 at Orlando's Tap & Grind. Read more about it in this Brewbound report
I've mentioned this on the Facebook page, but it's worth bringing up again here. Several months ago, Pine Street Pub in Inverness held a benefit for Jeannie Lesage. Jeannie suffered from kidney failure, and her son, Eric, donated one of his kidneys. They are both doing great, but she needs to be on anti-rejection medicine the rest of her life. So another fundraiser is scheduled for November 14 at the same great place. Eric, a talented homebrewer and huge supporter of the craft beer community, asked me to help spread the word and reach out to my friends in the brewing industry to see if you can help, either by donating beer to pour or swag for a raffle. If you would like to help, please contact Eric Lesage at Umass2804@yahoo.com to arrange delivery/pickup. Anything would be great to help this fine family, and a shoutout to the pub for providing the venue. The first event was a hoot, so buy a ticket and come by! More information here.
In case you missed the post earlier this week, a Florida Craft Beer Summit was announced for March 2016 in Sarasota. More information here.
Florida Brewery news
Coppertail Brewing Company in Tampa has signed an agreement with Gold Coast Eagle Distributing to distribute their beers in Sarasota and Manatee counties. They should be rolling out by January.
Speaking of Coppertail, the brewery recently had an issue after a customer's complaint about people bringing their dogs on the premises. The folks there worked with the city, and they announced this week that you can again bring your furry friends to the tasting room – but the permit allows them only on the outside patio.
Jax Beer Week
Jacksonville is kicking off Jax Beer Week next Saturday. There will be plenty of sudsy action at the region's local breweries and pubs. Here's a list of events.
Blue laws
The Pensacola News Journal reports that south Santa Rosa County in the Panhandle might soon change its ordinances to allow extended Sunday sales of alcohol. Read more here.
Halloween Happenings
Greetings boys and ghouls, it's that time of year. This is just a sampling of the Halloween weekend events happening at craft beer venues around the state. If your event isn't listed, feel free to add it in the comments.
Welcome!

Our newest sponsor of the Beer in Florida Brewery Map and List page signed on earlier this week. If you're up in the Pensacola area, drop by Ye Olde Brothers Brewery and tell them you heard about it here.
If your brewery or beer-related business is interested in becoming a sponsor, drop a line to gerard@beerinflorida.com, and I'll get back to you with the details.
Festivals
Apparently because of all the Hallow-activity, there don't seem to be any beer festivals scheduled in Florida this week. Here's a look ahead to next week:
That's it for this week. If you find this website useful, feel free to drop a little money into our tip jar on up there on the right rail. If you're planning your beer journeys in the Sunshine State, check out our Florida Brewery Map & List, which should have its next update within a few weeks.
Cheers!
Gerard