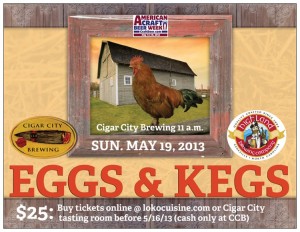 The Eggs & Kegs brunch at Cigar City Brewing in Tampa sold out quickly when it was held during Tampa Bay Beer Week.
Now there's another chance – and I've learned there will be even more chances later this year.
An Eggs & Kegs is scheduled to take place during American Craft Beer Week, on Sunday, May 19.
The food this time, once again provided by Chef John Loscalzo of Loko Cuisine, will be paired – and prepared – with craft beer from Cigar City and Highland Brewing of Asheville, North Carolina.
In an exclusive to Beer in Florida, Loscalzo announced that Eggs & Kegs will be a regular event at Cigar City from September to May on the first Sunday of each month, and there may even be some brews down the road with culinary-inspired brunch flavors.
The beer-infused brunch on May 19 will include a four-course Cuban- and Celtic-inspired menu, a pint of beer, cider, or LOKO's blood orange and guava beermosa, fresh brewed espresso from Felicitous Coffee and Tea House, and a Cigar City smoked salsa bar.
Here's the menu:
Drunken Breakfast Brisket & Bacon
Felicitous espresso & spice oven roasted brisket, Cigar City Cubano Espresso Ale au jus,  Cigar City Maduro Ale caramelized onion bacon marmalade (on side).
Scotch Egg Papa Rellena
Cross between a Scotch egg & Spanish papa rellena! Crispy mashed potato croquette stuffed with a hard boiled egg, Highland Devil's Britches IPA peach Sriracha hot suace (on side).
Mocha Dulce de Leche & Sea Salt French Toast
Baked French toast with maple cinnamon cream cheese custard, Highland Black Mocha Stout dulce de leche, coarse Celtic Sea Salt.
Cuban Caprese Salad 
Fresh mozzarella pearls, grape tomatoes, green grapes, shaved red onion, marinated in cilantro lime mojo pesto.
Tickets are $25 and can be purchased online here or at the Cigar City tasting room (cash only). Buy them quick; this one is also expected to sell out.