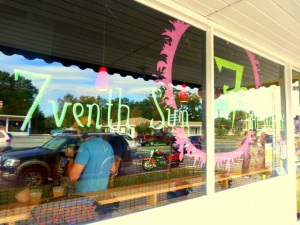 Tucked into the end of a little strip of small businesses in a small town, in a cinder-block building sporting the Pepto Bismol-pink paint job favored by the typical Florida art-deco color palette, sits the latest player in Florida's craft beer scene.
And if the enthusiasm of the crowd that showed up for the first official pouring of its beers is any indication, Seventh Sun Brewery will enjoy a long and successful run as a premier member of the Florida craft brewery club.
Hundreds of craft beer lovers, fellow brewers and neighbors eager to see the new kid on the block arrived Saturday at the tiny space on the northwest corner of Broadway and Tilden Street in Dunedin. The taps began flowing at 2 p.m. The first beer poured was Donut Porter, at a cost of $202.50 and shared by three gentlemen whose names are familiar to those tuned in to the Sunshine State's craft beer culture: Joey Redner and Justin Clark of Tampa's Cigar City Brewing and Zack Schuster of Brown Distributing Co.
The pricey pour came courtesy of a winning eBay bid, and the money went to the Homeless Emergency Project to help those in Pinellas County whose lives have taken a turn for the worse.
Seventh Sun Brewery is the brainchild and the longtime dream of co-owners Justin Stange and Devon Kreps. Justin has brewed at Cigar City, before that at Sweetwater Brewing Company in Atlanta, and he and girlfriend/business partner Devon have been working for years on opening a craft brewery, first under the name Swell Beer before that business plan came apart, then regrouping to make Seventh Sun a reality. The business opened in December, serving other breweries' craft beers, before the licensing came through to allow them to pour their own creations.
Justin enthusiastically expressed his delight at the support the community showed on the brewery's First Pour Day.
"I'm pretty pleased," Justin said. "It's a lot more than I expected right off the bat."
Ten Seventh Sun beers were on tap that day:  Midnight Midnight (Berliner Weiss); Overhead IPA (Simcoe & Amarillo Dry Hop); FYA (Single Hopped Extra Pale Ale); Belgian IPA (American-Euro Hop Hybrid); Saison in Paradise (French style with Grains of Paradise); Noix de Cocoa (French Saison & herbal coconut); Donut Porter (Chocolate Porter with glazed donuts); Key Lime Berliner Sublime (Berliner with Key lime herbal blend); Kiwi-Cherry Coconut Berliner; and Pearvocative FYA (FYA with an herbal blend).
No complaints were heard about the beer or the event, other than from one neighbor who was trying to take an afternoon nap. Justin diplomatically explained that the live music from local bluegrass pickers Cracker Billy Band and the overflow crowd of First Pour Day would not be a regular thing.
Seventh Sun is literally around the corner from Dunedin Brewery, which bills itself as "Florida's Oldest Craft Brewery." The folks there were happy to see Seventh Sun join them in the funky Gulf Coast town.
Trace Caley, a brewer at Dunedin Brewery for the past 11 years, came over for the afternoon.
"It's a great thing," he said. "The way I look at it, a high tide raises all boats. The whole community of craft beer is coming together in Dunedin, and it's going to be the next big thing."
Dunedin Brewery founder Michael N. Bryant joined the party later in the afternoon.
"Send people down here," he said, "if they want to taste good beer."
Here's a video from the festivities, and more photos can be found here.
You might enjoy this story, too: Collaboration On the FL-ORegon Trail