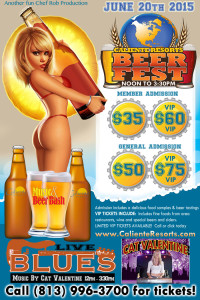 The beer festival started at noon, but I arrived around 10:30 a.m. to get set up for my book signing.
I rolled up to the gated community's guardhouse, got my name checked off the list, and proceeded to the vendor parking area.
The Florida sun beat down, and the familiar haze of mid-June humidity already had started to thicken. Which is probably why it only took about 30 seconds before I saw my first naked person.
The first beer festival last year at the clothing-optional Caliente International Resort & Spa in Pasco County proved such a success that they are doing it again this year on Saturday, June 20, from noon to 3:30 p.m.
Organized by "Chef Rob" Wilcox, the festivities will include unlimited samples of beer from local and national breweries, as well as food samples, and music from local blues musician Cat Valentine. Local breweries scheduled to pour include Cigar City Brewing, Big Storm Brewing Co., Tampa Bay Brewing Co. and Coppertail Brewing Co. Samples will flow from such national breweries as Oskar Blues, St. Arnold's and Shipyard.
There will be a raffle of items donated by local businesses, and all proceeds will go to HPH Hospice.
Tickets for the public are $50 for general admission and $75 for VIP; Caliente member prices are $35 and $60. VIP admission includes a food selection provide by area restaurants, special beers and ciders, and wine. Call 813-996-3700 for tickets.
Eyes down here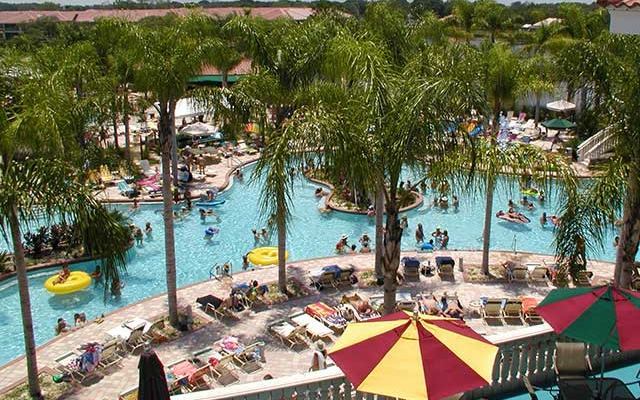 If you clicked on this post to read about the beer, you can stop now. If you wanted to hear about naked people, read on. By the way, you will ONLY read about them. Unauthorized photographs are strictly forbidden. (The Safe-for-Work images here are courtesy of Caliente).
The festival had not been on my calendar last year, but my "Florida Breweries
" book had just been released a couple of months before, and I was hustling to get the word out about it – and make some sales. During a conversation at a book signing, new-friend-at-the-time Lynn Waddell, author of the book "Fringe Florida
," mentioned that she was doing a signing at the Caliente Beer Festival the next weekend. Her book, a fun and eye-opening literary romp through the Sunshine State's less-mainstream subcultures, devoted part of one chapter to Caliente, as well as some other clothing-optional resorts in Pasco County, which "boasts the largest nudist and clothing-optional community in North America," according to VisitPasco.net.
(Her book's subtitle is "Travels among Mud Boggers, Furries, Ufologists, Nudists, and Other Lovers of Unconventional Lifestyles
).
Lynn asked if I would like to do a book-signing at the festival. I said I would. She made a call, and I was booked.
What I learned
For the purposes of this article, I'll list some of the things I discovered via my personal experience at last year's beer festival. You can learn more about clothing-optional resorts in general by reading the chapter in Lynn's book, researching other resources, or visiting resort websites (usually not safe for work).
An open mind is essential: I had no idea what to expect. I knew of the concept of clothing-optional living, but other than a few teenage skinny-dipping episodes and walking around naked before and after showers in my own home, I had never participated and did not know how I would feel about it. I soon found out. For the first 10 minutes, it was weird. For another hour, it was a novelty. After that, I felt weird by being clothed.
Nudists are cool people: After the weirdness in my brain died down, I found that the unclothed were very welcoming, friendly and nonjudgmental people. Not everyone around the pools chose to go bare, and that seemed to be OK. Clothed and unclothed mingled and laughed as at any beer festival where no one was naked. The conversation and camaraderie amongst friends and strangers sort of reminded me of the social atmosphere of a brewery taproom.
Cliché 1, It's all about sex: I didn't see any public sex – maybe some "heavy snuggling" in the pool – but that's it. In fact, the "unspoken rule" is addressed in the FAQ section of the Caliente website: "Overt sexual behavior or the appearance of such behavior is unacceptable at Caliente Resorts. Behavior 'never needing an apology' is the norm." Is there sex going on? Of course – the place is a sprawling housing and resort development with thousands of year-round and seasonal residents. Get a room? They've got plenty. Just don't expect to see it in public.
Cliché 2, All you'll see are old, saggy bodies: As far as the physical attributes of the clientele, they ran the gamut from hard bodies to extremely soft bodies, and young to old, pretty much like at any crowded, upscale Florida resort. After a while, I hardly noticed, and probably even less so had it been a traditional resort. After all, you can't stuff your body into a too-small swimsuit if you're not wearing one.
Bad puns and jokes are inevitable: To this day, a brewery representative friend who attended and I greet each other with the universal waving-two-fingers-at-eye-level "I'm looking at you" symbol, and "Eyes up here!" And when I saw that Oskar Blues was sampling their "Old Chub" Scotch Ale … well, you get the idea. Just keep the jokes to yourself and your non-nudist friends. Or nudist friends who you know won't be offended.
Privacy is important: Of course, you should be respectful of others' privacy no matter where you are. But I did run into folks at the fest going au naturel whom I knew from the "clothed world," and there were others I later encountered outside the resort whom I had met there. They know that mainstream U.S. society does not generally approve of their lifestyle. Some are OK with "outsiders" knowing; others are not. Until you know otherwise, assume the latter.
Finally, did I join in? Other than a brief and unobtrusive skinny dip into one of the five pools to cool off from the blistering heat, I stayed in my uniform of swim trunks and "Beer in Florida" work shirt for the duration of the festival. As the beer-related festivities wound down, Chef Rob announced that attendees were welcome to stick around and enjoy the resort as long as they wanted that day.
I loaded up my gear, packed it in my car, returned to the pool area, slipped off my clothes and for a couple of hours, I hung out.
See what I mean about the puns?
I'll be signing books again at this year's festival. Come by and say hi if you're there. I promise to be clothed, at least until the festival is over. Lynn won't make it this year, but she says there are copies of "Fringe Florida" available in the gift shop. If you're in Central Florida on June 27, she'll be signing copies at the Orlando Public Library's LIBCON Author's Fair.
Note to festivalgoers: Please bring cash or a standard credit card if you want to purchase a book ($20, tax included). Resort currency is in the form of a prepaid cash card, and I won't be able to accept that. By the way, if anyone wonders how naked people carry around that sort of stuff, the gift shop sells some really cool branded baseball caps with zipper pockets inside.

FATHER'S DAY FLORIDA BEER GIFT LIST