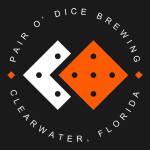 A little more than a year ago, Clearwater had no commercial craft breweries to call its own. That changed with the opening of the Pair O'Dice production brewery, and on Saturday, Oct. 25, it marks its first anniversary with a day of entertainment and the release of a monster of a beer.
Julia and Ken Rosenthal are the couple behind the concept. I've seen them around the area during the past year, and have sampled their tasty concoctions at brew fests and special events, and tap at select accounts in the Tampa Bay area. However, I'm a bit embarrassed to say that I have not yet been to the brewery itself yet, though I've heard others sing its praises as a fun and comfortable spot to tip back a few pints.
"We've always believed that the key to our success would be to focus on beer and to let our product speak for itself," Julia Rosenthal said in a news release announcing the anniversary celebration. "We are thrilled to have the craft beer community of Tampa Bay supporting us every step of the way."
The Rosenthals, whose brewery name is a play on one of Florida's favorite nicknames – "Paradise" – focus on fresh, aromatic, and flavorful hop forward ales inspired by the West coast.
The celebration will kick off at noon, local bands Between Bluffs and Fowler's Bluff will play from 1 to 10 p.m., and food trucks will provide munchies beginning at noon.
There is no charge for entry, but tokens will need to be purchased for beer.
The brewery is at 4400 118th Avenue North, Suite 208, Clearwater, Fla. 33762.
Oh, and that monster beer? It's an inaugural anniversary release of The Pit Boss, a Triple IPA (13% ABV).
Yikes!
For more information, call 727-755-DICE (3423), or go to the Pair O'Dice website or Facebook page.