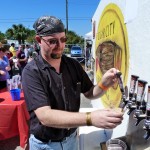 Cigar City Brewing has released further details on this year's Hunahpu's Day bottle release and festival. In addition to the changes announced earlier, here are some highlights from the new information.
Tickets will go on public sale Jan. 20 at noon Eastern time for $50 each plus a service charge, one ticket per person. The sales will be online; Cigar City says there will be a link released soon.
Tickets will be limited to 3,500. Because of that, no designated driver options will be available to allow the maximum number of beer lovers to attend.
The bottle price for Hunahpu's will remain at $20 each. Information on per-person limits will be released after all the beer is bottled. Bottles will be sold throughout the event, which will be from 11 a.m. to 5 p.m. Any bottles not sold that day will be available for purchase at a time and location to be determined.
In the previous announcement, Cigar City said the tasting room would not be part of the festival. That has changed. It will now be and samples will be poured there, but a doorman will be stationed to maintain a cap on the number of people allowed in at one time.
As a reminder, the bulk of these changes result from pressure by city officials. Last year's Hunaphu's Day drew more than 9,000 people, and annoyed and hampered the brewery's business neighbors. Anyone who attended would likely agree that the crowd was far too large for the facility.
Here is the text of the entire statement from Cigar City:
Hunahpu's Day is just around the corner. March 8th at the brewery.

As mentioned in an earlier post, this year's format will be similar to a beerfest, and as such we are charging admission to enter and sample unlimited beers.

Tickets will go on sale online January 20th, 2014 at Noon Eastern time. The link will be posted in the coming days.

There are a limited number of tickets because we can only allow 3,500 people to enter the fest. This is straight from the city of Tampa. Last year we had over 9,000 folks in attendance and while that is a pretty staggering and awesome number, we just aren't able to safely accommodate that number of people.

El Catador Members have already been informed they can purchase ticket(s) on January 13th. If any are leftover from El Catador Club ticket sales, they will be sold to the general public on January 20th.

FAQ:

Q: What time does everything happen?
A: The fest officially starts at 11:00am and ends at 5:00pm. All tickets should be sold by then so hopefully that will sway folks from lining up and making our neighbors happy!

Q: How much are tickets?
A: $50 plus a $2.24 online service fee. This price includes entry to the fest, a sample glass, and guaranteed access to purchase bottles of Hunahpu's Imperial Stout.

Q: How many tickets can I buy?
A: One ticket per person.

Q: Will there be designated driver tickets available?
A: There will not be. The reason is because we have a hard cap of people who can be on our property. That applies to drinkers and non-drinkers alike. We want to save tickets for folks who want to drink beer and partake in the festivities.

Q: Will there be any tickets for sale in the tasting room?
A: We plan to sell some tickets in the tasting room after the online ticket sales are completed. We have not determined a date on that yet or a number of tickets.

Q: Parking?
A: The brewery parking lot will be closed for the fest, however there is parking across the street in the old Sears/Roebuck building. A large signing saying "Cigar City Overflow Parking" is quite visible from the street. If that lot is full, some of the businesses in the area will be charging a small fee to park there. However we beg and plead with you not to park in the neighborhood or at Target/Home Depot/Whole Foods. We love our neighbors and don't want to dust up any guff!

Q: What about the tasting room?
A: The tasting room is going to operate differently than what we initially said in the first informational post about Hunahpu's Day. The tasting room WILL be a part of the fest and will not be selling any beers at all, but rather pouring samples just like the rest of the fest happening outside. So, the tasting room will only be open to festgoers. Also, we will have a doorman keeping a cap on the number of people who can enter the tasting room at any given time (again for safety concerns).

Q: Bottle sales! I wanna know everything about them, friend!
A: Bottles will go on sale as soon as the fest starts at 11:00am and be available for all festgoers throughout the day. They are $20 per bottle. We have yet to bottle Hunahpu's Imperial Stout, so we are unable to determine the number of bottles allotted per person. If there are any bottles left remaining after the fest, we will sell them to the general public at a time to be determined, however for now the ONLY guaranteed way you can purchase bottles of Hunahpu's is to get a ticket to the fest.

Q: Food? I like food?
A: There will be a bunch of food trucks this year, as we're working with Tampa Bay Food Truck Rally again. Food is not included in the ticket price however and they will be charging separately.

Q: You say something about a sample glass?
A: Yep, there is going to be a special Hunahpu's Day sample glass available to every attendee, plus you will be able to purchase additional ones as well.

Q: Okay, let's get to the nitty gritty: what kinda awesome beers can we expect?
A: We are still hammering out all the deets but you can expect to see a lot of cool vintage beers from us, barrel-aged beers, unique treatments, favorites from long ago…and more! We've already had a few awesome breweries confirm they will be in attendance and serving their own beer so it's going to be a hell of a time.

Q: Can I bring in bottles/cans of beer to drink and share with others?
A: Yes sir or ma'am, you are able to do that as always.

Q: Dogs!
A: Well-behaved leashed dogs are welcome to attend and hang out.
Collaboration on the FL-ORegon Trail