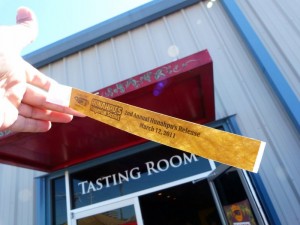 CLICK HERE FOR AN IMPORTANT UPDATE.
I had a chance to chat briefly with Cigar City Brewing founder Joey Redner at his Tampa brewery's Hunhapu's release party last year, and I asked him what he and his staff do to make sure things go smoothly during the event.
Because 2011 was the first time Cigar City released the beer during an all-day festival-like atmosphere, Joey looked to similar events at other breweries to learn from their mistakes.
"We looked at things people griped about, and tried to fix it," he said.
Some details have been released for the 2012 Hunahpu's Day on Saturday, March 10, and there have been a few changes from last year that seem designed to address gripes about his own event.
Before we go any further, if you're a newbie to craft beer or Cigar City, Hunahphu's is an imperial stout that has gained a reputation as arguably the finest beer produced by the brewery. Here's some info about it from the Cigar City website.
In Mayan myth, Hunahpu gave cocoa to the Mayans.

An Imperial Stout Aged On Cacao Nibs, Madagascar Vanilla Beans, Ancho Chilis, Pasilla Chilis and Cinnamon.

We celebrate the release of Hunahpu's by hosting Hunahpu's Day the second weekend of every March. In addition to the release of Hunahpu's we feature live music, food vendors, incredible guest taps and many of our own special beers for all to try as well. It's becoming a hell of an event, and promises to only get better.

Tasting Notes

Pours extremely dark in color with a brown head with notes of big notes of chocolate and espresso, moderate notes of vanilla and cinnamon and mild notes of tobacco and chilis. The flavor opens with a big blast of chocolate and moderate espresso with notes of dark toffee and interjecting notes of vanilla with lingering hints of cinnamon and tobacco and chili notes with a mild scoville heat in the finish.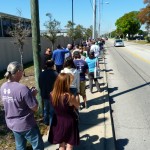 As was the case last year, the event starts at 11 a.m. (You may want to get there earlier; the line will be pretty long by the time the tasting room opens).
Two wristbands will be given out: one to show you're at least 21, so be sure to bring your ID. The other will allow you to purchase your bottles of Hunahpu's.
Changes from last year:
Bottles will go on sale at 3:30 p.m. Last year, sales started at 6 p.m.
All bottle sales will be cash only. Last year, credit card sales were allowed. This should make the lines move more quickly. Be aware that though there is an ATM on site, it ran out of cash relatively early last year, so be prepared before you arrive. Credit cards will still be accepted in the Tasting Room.
There will be several stations to purchase the bottles, rather than one. Again, this should make it easier to get your hands on them more quickly.
No growlers and no sample flights will be sold that day. Last year, the event included growler sales of several special-release beers and the lines to buy those really mucked things up, crowd-wise.
The good news: Prices remain $20 per bottle. The bad news: The per-person limit is three, down from last year's four. The good news: The bottle limit ends at 7:30 p.m., 90 minutes earlier than in 2011. If there are unsold bottles left, they will be available on a first come, first served basis.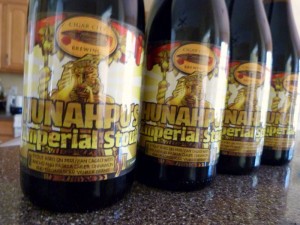 Other things you should know:
The Cigar City parking lot will be closed off and wet-zoned, which means you'll have to either park at the IRS building, 3848 W. Columbus Drive, and walk the 1.1 miles or take a provided shuttle. Alternatively, you could book a room at one of the local hotels that will offer shuttle service (Details TBA).
There will be "a whole slew of different food trucks" at the event so you can grab a bite to eat.
Live music and other entertainment is planned.
My favorite part (other than the Hunahpu's): There will be both Cigar City and guest beers on tap during the event, and some of those are likely to be rare and/or highly coveted. Here are just three examples from last year: Funky Buddha Maple Bacon Coffee Porter, Three Floyds Arctic Panzer Wolf Double IPA and Founder's Breakfast Stout  (Click on the pic to the right to see last year's list). Bring extra cash!
If money is tight, as it is for many of us, there will be some local homebrew clubs pouring gratis samples of their creations.
Bottle sharing is encouraged, so check your cellar for something special to bring along. (I'm looking at you, Firestone Walker Parabola!)
Last year, several out-of-town craft beer spots chartered shuttle buses to bring their customers to the event. I haven't heard of any yet, this year, so if you know of any, please put the info in the comments below.
Here's a link to more photos from Hunahpu's Release Day 2011.
Stay tuned for more details!