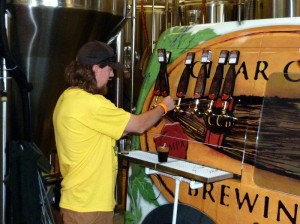 One of the banes of a beer geek's existence is being stuck on a long layover in an airport that doesn't serve local craft brews anywhere on site. The pain becomes even worse if you've spent time in terminals that do offer great local beer options: Denver, Portland and even Salt Lake City come to mind for me.
Tampa International is one of those beer-poor airports, but beginning next year that will change with the addition of a Cigar City Brewing pub in Airside C, part of nearly $6 million in concessions makeovers expected to be in place by March 2012.
The concessions revamp includes outposts of local restaurants Green Iguana, Mise en Place and Columbia Cafe.
"I couldn't be happier about this expanded community presence at the airport," said airport CEO Joe Lopano. "At the same time, it's an opportunity to increase our revenue and better serve our customers with a real taste of Tampa."
The new restaurant offerings are part of a larger program intended to increase airport concessions revenues by more than $1.2 million in the 2012 fiscal year.
Airside C currently services AirTran, Frontier and Southwest airlines.