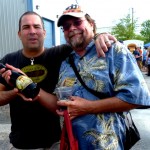 Five thousand people reportedly flowed through the gates of Cigar City Brewing on Saturday to enjoy the festivities surrounding the once-a-year release of the Tampa brewery's Hunahpu's Imperial Stout on a day that started with overcast skies that turned into a warm sunny day.
This event gets bigger and better each year. Not only was there an incredible tap list of rare and special-release beers for purchase, but several homebrew clubs shared their creations at no cost, and many people brought some special bottles from home to share with their fellow craft beer lovers.
One cool thing this year was the introduction of some carnival-type games. Especially popular was the dunk tank that allowed attendees a chance to dump local beer personalities into the water, including Cigar City founder Joey Redner.
Going, Going, Gone!
Joey Redner
Cesar Vazquez
Phil "Evil Phil" Palmisano
The atmosphere remained festive from the get-go. Even before the gates opened at 11 a.m., folks in line were visiting each other, sharing beer and enjoying the anticipation. IDs were checked and "21 and older" wristbands were distributed to those in line, as well as maps that listed the beer taps at each pouring station. Once the gates opened, people quickly lined up to purchase beer tickets before moving to the station of their choice.
Kegs of the most popular brews kicked quickly. For instance, the Three Floyds Dark Lord keg emptied less than 10 minutes after it was tapped at 1 p.m., disappointing the folks who lined up too late for a taste of the coveted imperial stout. But there was no shortage of other incredible brews, and most people seemed to take the sometimes long waits in stride.
Wristbands that allowed the purchase of two bottles of Hunahpu's were gone before 1 p.m., much earlier than last year even though the limit had been reduced to two this year from four in 2011.
Once the Hunaphu's bottles went on sale at 3:30 p.m., those lines moved quickly in a well-organized distribution.
All in all, the brewery did a stellar job, considering the size of the crowd. Next year's release should be even better.
The event took place on the final official day of the inaugural Tampa Bay Beer Week, which from all accounts proved to be a smashing success. Cigar City made available custom nametags for the day, and most people filled them out with their names and where they are from. I saw folks who had traveled from all regions of the U.S., and even talked to a man who had traveled from Germany.
Such representation indicates that Tampa Bay Beer Week – which kicked off a week earlier at the Florida Brewers Guild Beerfest  –  achieved one of its goals: Letting the world know that the craft beer scene there is thriving.
For more photos from the 2012 Hunahpu's Day, click here.