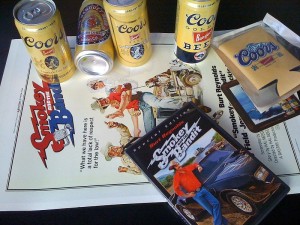 I'm old enough to remember when you couldn't buy Coors beer east of the Mississippi, so any time some dude made a road trip to the Western states,  he usually returned to Florida with a case or two of the Rocky Mountain brew in the trunk. Of course, once Coors became available here, it lost a lot of its mystique and became just another run-of-the-mill domestic lager.
But in 1977, Coors still retained that mystic allure, which is why the back of the tractor-trailer in the Burt Reynolds movie "Smokey and the Bandit" that year was filled with cases of bootleg Coors. ("Now, gettin' to Texarkana and back in 28 hours, that's no problem.")
And now that I've made the beer connection, here's the news: Reynolds will be at the historic Tampa Theatre on March 21 for a special showing of the classic trucker action-comedy. He'll be accompanied by Turner Classic Movies host Ben Mankiewicz as part of the Road to Hollywood Tour, the cable channel's 10-city buildup to the 2011 TCM Classic Film Festival in Hollywood.
Tickets are free, but passes will be required. The passes can be obtained at http://www.tcm.com/roadtohollywood beginning March 7.
Reynolds and Mankiewicz will hold a question-and-answer session before the screening of the film, which also stars Sally Field and Jackie Gleason.
Reynolds has deep Tampa and Florida connections. He and his parents moved to Riviera Beach (near West Palm Beach), where his father later became police chief. After an illustrious high-school football career, Reynolds played halfback at Florida State University on a scholarship. Injuries cut short his college football career, and he turned to acting.
In 1982, Reynolds became a co-owner of the Tampa Bay Bandits, a professional football team in the now-defunct USFL.
He starred in the 1993 movie "Cop and a Half," which was filmed in Tampa – and not well-received by the critics. He currently lives in Jupiter, Florida.