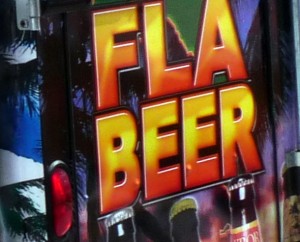 RateBeer.com has released its annual "Best" lists, and Florida craft beer makes a respectable showing. I picked through the lists and pulled out the honors for the Sunshine State.
Keep in mind that most of the lists include international beers and breweries.
Where rankings are given, they are in (parentheses).
Click on each header to see the complete rankings in the category.
Pale Lager: (4) Cigar City Hotter than Helles.
India Pale Ale: (9) Cigar City Humidor Series Jai Alai Cedar Aged India Pale Ale.
Stout: (7) Cigar City Hunahpu's Imperial Stout.
Wheat: (1) Cigar City Pilot Series Passionfruit and Dragonfruit Berliner Weisse.
Dark Lager: (6) Cigar City Ligero Black Lager.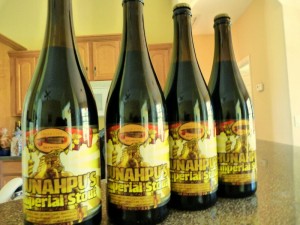 BEST BREWERS IN THE WORLD 2012
(5) Cigar City Brewing, Tampa.
(27) Funky Buddha, Boca Raton.
TOP NEW BREWERS IN THE WORLD 2012
No Florida brewers made this short list of five; I'm including it, though, because there are so many new breweries scheduled to open here in 2012 that I would not be surprised to see Florida represented next year.
(8) Cigar City Pilot Series Passionfruit and Dragonfruit Berliner Weisse
(11) Cigar City Hunahpu's Imperial Stout.
(36) Cigar City Zhukov's Final Push.
(39) Cigar City/Mikkeller Nielsbohrium.
BEST BEERS OF THE UNITED STATES 2012
(5) Cigar City Pilot Series Passionfruit and Dragonfruit Berliner Weisse
(8) Cigar City Hunahpu's Imperial Stout.
(34) Cigar City Zhukov's Final Push.
(37) Cigar City/Mikkeller Nielsbohrium.
(48) Cigar City Hunahpu's Imperial Stout – Whiskey Barrel Aged
(49) Cigar City Marshal Zhukov's Imperial Stout.
Redlight, Redlight (Orlando)
Proof (Tallahassee)
The Cock and Bull Pub (Sarasota)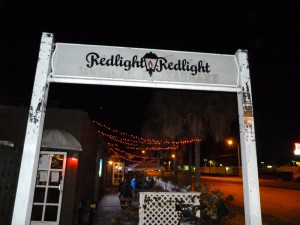 Knightly Spirits – Orange Blossom Trail (Orlando)
Cajun Café on the Bayou (Pinellas Park)
The Ravenous Pig (Winter Park)
Datz (Tampa)
Café Tu Tu Tango (Orlando)
Mr. Dunderbaks (Tampa)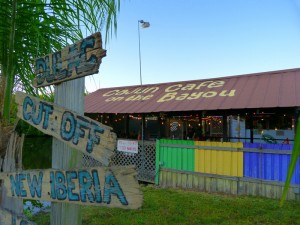 Cigar City Brewery (Tampa)
Bold City Brewery (Jacksonville)
In the beer categories, Cigar City again dominated, which is to be expected because not only do they make great beer, but they have a higher national profile and distribution than most other Florida breweries. But if Florida craft beer supporters keep spreading the word as we travel and as we converse via social media, I am certain the recognition for the other fantastic beers being produced here will continue to spread across the country and around the world.
BTW, if you're planning a trip to California in mid-February, the RateBeer Best Awards dinner is scheduled for Sunday, February 12, in Sonoma. More information here.
Here's an explanation from RateBeer that discusses how the rankings are compiled:
Craft beer is at a wonderful stage. No longer are we competing for respect as a second class beverage. We've won respect. And the craft beer industry is enjoying great success. The number of craft brewers is still increasing markedly. Last year alone RateBeer new brewers increased a whopping 16%. And RateBeer is still growing rapidly, primarily in large US metro areas like San Francisco, Los Angeles, Chicago and New York and abroad in Australia, Sweden, Italy and Brazil.

This great success took intelligence, passion, technical skill, hard work and creativity. It's my great pleasure to honor those responsible for what the craft beer industry as a whole has earned and accomplished. And with RateBeer Best 2012, I want to especially recognize those who are doing all it takes to put forth the very best beer in our glasses.

For a moment, we'll shed some humility to truly highlight how important these awards are and how very large this competition really is.

Over 3.5 million times, RateBeer beer reviewers worldwide have raised a glass to review a new beer. We have tallied those scores and now present them as our competition results.

RateBeer Best was again the largest beer competition in the world — more than 140,000 beers from over 12,000 brewers worldwide were tallied. A particular emphasis was placed on tastings made in the last twelve months. Additionally, brewpubs, bottle shops, restaurants and bars from around the world were awarded prizes. Cheers to all the winners and to everyone who keeps the world of craft beer growing as a fun, cooperative community devoted to excellence.

EXPERIENCED REVIEWERS
RateBeer is now home to the most experienced beer critics in the world with SEVENTY-NINE master beer tasters having over 5,000 documented beer reviews. Jan Bolvig of VestJylland, Denmark is the world beer reviews leader with 23,332 beer reviews to his credit. RateBeer is also home to countless certified cicerones and BJCP judges.

TRULY WORLDWIDE
Despite the majority of reviewers and beers being American, the community is enriched by many of RateBeer's top 10 raters being from outside the United States with the top beers hailing from many different countries. The depth and breadth of RateBeer's beer database is truly unsurpassed and the competition the most comprehensive.

REAL SAMPLES
Unlike other beer contests, the emphasis was largely placed on tasting commercial samples — not special batches prepared for festivals. Additionally, most beers were not tasted in large flights, allowing a more reliable and accurate account of the beer.