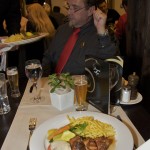 When I started Beer in Florida in December 2010, a beer-pairing dinner was so rare that when I heard about one, it merited a separate post highlighting it.
Times have changed.
So many notices of these pairings of craft beer and food flow through my email, Twitter and Facebook feeds that I could probably start another blog just about them, if I had the time to do so.
I'm no expert in this field, though as my palate has evolved I'm learning more about which beers best complement the food I'm enjoying.
CraftBeer.com, the website of the Brewers Association, includes a very nice section on beer and food pairings. I suggest you visit there to increase your knowledge on the subject.
As is the case in so many other arenas, Tampa's Cigar City Brewing leads the pack in bringing recognition to the Florida craft beer scene.
The brewery regularly schedules beer dinners throughout the state at various venues and restaurants, from burger joints to the Ritz-Carlton Sarasota.
Of course, Cigar City is not alone.
Orlando Brewing holds beer pairing dinners at such venues as Portobello at Downtown Disney.
Swamp Head Brewing out of Gainesville holds beer-pairing dinners fairly regularly.
Jacksonville's rapidly growing Intuition Ale Works has embraced dinners highlighting the "slow food" movement.
On and on.
Really, it's too much to keep up with, which is a great thing. The more that people are aware of the varied and complex tastes of craft beer that make a meal so much more enjoyable, the better it is for all of craft beer geekdom.
Sure, you could spend your evenings watching reruns of your favorite zombie-heavy television, playing video games, or reading beer blogs. But every once in a while, make a reservation for one of the many beer dinners being held throughout the state.
You won't regret it.
Please, though, keep reading local beer blogs.