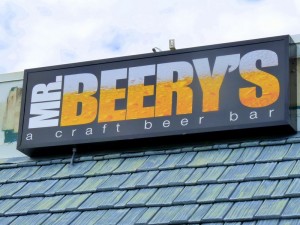 Scroll down for update
Draft Magazine has just released its list of "America's 100 Best Beer Bars: 2012."
As usual with subjective lists such as this, plenty of room for debate exists, but the good news is that there are two Florida venues on the list – technically three, but we'll get to that later – including newcomer Mr. Beery's in Sarasota.
Here's what the magazine says about the Florida choices:
Mr. Beery's

Sarasota, Florida

Less than two years old, Mr. Beery's is already getting some serious buzz. Not only is the 24-tap selection applause-worthy (and matched by a bottle selection peppered with seasonals, one-offs and rarities), but this place is genuinely dedicated to spreading the good word about craft beer. Attend Beer School and learn how to do your own beer pairings with everything from grilled cheese to sausage, or bring your best bottle and share it during Tuesday night's Show and Tell. 2645 Mall Drive, mrbeeryssrq.com

REDLIGHT, REDLIGHT

Orlando, Florida

This concrete dive is a Magic Kingdom in its own way: Educated bartenders, two casks and a separate menu dedicated to vintage brew are highlights. Grab a bottle from the fridge to go, but not before stopping at the food trucks that roll by on the weekends. 745 Bennett Rd., redlightredlightbeerparlour.com
Congratulations to both establishments, which I have visited and which I personally recommend.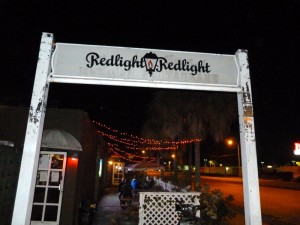 Also mentioned as notable craft beer-bar chains in the Sunshine State are World of Beer (16 locations in Florida, with more planned) and House of Beer (three locations).
Now, here's where the magazine's editors might have been better off paying attention to Beer in Florida.  Also included on the list is Oldsmar Tap House, which, as reported here, served its last beers on June 10 before shutting its doors for good after being sold to Tampa-based House of Brews.
Ordinarily, I would attribute this mistake to early print deadlines (magazine pages often go to the printer weeks or months before publication) if not for an error that I had made on this site back in July 2011. A Draft editor had posted a Facebook link to its "America's Best Beer Bars: 2011"  list, and, thinking it was new, I clicked on it, saw that the list included Oldsmar Tap House, and wrote a post that shot a few gentle barbs at the magazine for listing a bar that had closed a month earlier.
Within minutes of the post going live, a Draft editor tweeted me to let me know that the list was an old one, but admitting that it was not made clear in the Facebook post. I immediately removed the post and apologized profusely. (Clarification: My Twitter account does not archive messages from that long ago. It was likely the web director and not an editor that I interacted with.  See update below).
It was my mistake. I should have researched further. Though I will not use it as an excuse, the immediacy of online publishing means that these things will sometimes happen.
Draft does not have that excuse.
Because of my mistake, an editor was made aware months ago of the beer bar's demise yet it was included on the new list. This indicates at best a lack of effective communication in the organization, and at worst, laziness.
The Oldsmar Tap House link in the online version of the list directs to a UK media group, so I suspect it may be to some degree the latter, seeing as how it only takes seconds to double-check a link.
This makes me wonder how much research goes into these lists. Are they based on actual reports or visits, or is it just a copy-and-paste rehash of the previous year's rankings, with reworded summaries and a few new bars added to give it the appearance of having been thoroughly researched?
(In the interest of full disclosure, this article contains some passages from the story I had inadvertently posted in July, so at times, I engage in rehashing copy as well if it is still timely, accurate and relevant.)
How useful are these lists?
A craft beer lover planning a trip to the area and using the list as a guide should have confidence that it is as accurate and as up to date as possible. Granted, in this case, another craft beer bar has moved into the space, so someone arriving there will not go thirsty, but how can readers be confident that the other bars are still in business, even at the time of publication? Also, the inclusion of a closed bar in the list means another worthy craft beer establishment will be left out.
Also, my background includes more than a decade as an editor in daily print newsrooms, so I tend to get worked up about these things.
Though the establishment no longer exists, I'll paste the Oldsmar Tap House summary from Draft's 2012 list.
OLDSMAR TAP HOUSE

Oldsmar, Fla.

This is a classic beer joint with a wooden bar, a top-notch 40-tap selection scrawled on a chalkboard, jam-packed fridges and no blaring TVs to distract you from the task at hand. Grab a cheese-and-cracker plate and get to know your neighbors at this beer-geek haunt. 300 State St., E #107, oldsmartaphouse.com

(EDITOR'S NOTE: Link is not valid).
I will email a link to this post to Draft's managing editor and ask for a response. If there is a reply, this post will be updated.
Again, congratulations to Redlight Redlight and Mr. Beery's for being outstanding advocates and supporters of the Florida craft beer scene.
UPDATE
I received an email from Erika Rietz, editor in chief of Draft Magazine, in response to this post. Here is what it says:
Hi Gerard,

Thank you for forwarding your post and allowing us the opportunity to respond. We compile the list throughout the year, and when we visited Oldsmar Taphouse and it made the list, it was still open (and wonderful!). I believe that the communication you had regarding the closing was with our web director, who is not an editor and not involved with this list (he is actually in a different office). However, this was regrettably something that was overlooked in our final fact checking.

Erika

Erika Rietz
Editor-in-Chief
DRAFT Magazine