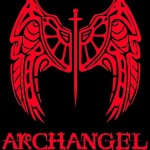 Most homebrewers who stick with it long enough eventually dream of opening a brewery. Few do.
Even fewer have such passion and drive that they uproot their lives and move to a new city to make the dream a reality, knowing that there will be many obstacles and much time before the dream becomes real.
Chris Ward is one of them.
Currently a resident of Long Island, New York, Chris will take his Archangel Brewing Company concept to Tampa, Florida in a few months. Even more remarkably, he's doing this immediately after another life-changing event – his marriage to fiancé Megan Vaughn, who will be a partner in his brewery. Joining him in a few months will be his brewing partner and best friend, Jesse M. Ganzer.
Chris, 25, has done a lot of groundwork already, but because of the distance, there is still much to do. He's researched the laws, scouted out potential sites online, and shopped for used brewing equipment.  Ahead still remains financing, permits and licenses and much more.
"There are certain areas where we are at a disadvantage. We aren't rich, we don't have business degrees," he said. "I have the unconquerable will and determination of an Irish revolutionary. When it comes to legwork and research and getting my hands dirty, I will never stop."
A lot of research and soul-searching went into the decision to move to Florida, and Tampa in particular. He, Megan and Jesse all have family in the state, and are "huge fans of warm weather."
"After weighing out all of our options, and discussing the possibilities, Florida was just the right choice for us personally," Chris said. "The fact that we are huge Disney fanatics doesn't hurt either."
Economic factors and the growing Florida craft beer scene also figured into the decision. He and Megan discussed it with Jesse, and he was "fully on board."
Reaching out to established brewers and others in the craft beer scene has helped him immensely, Chris said. He's received advice from Sam Calagione of Delaware's Dogfish Head Brewery, and among those he's been in contact with here, besides Beer in Florida, are local beer writer Sean Nordquist, who also pens the And Beer for the Daddy blog , and Cigar City Brewery owner Joey Redner.
Chris said Sean "calls himself an evangelist of craft beer, and that's pretty appropriate. Having a friend like him supporting us and our product can only be a good thing,"
"Joey is an incredibly busy man but has still taken the time to answer my emails and offer up advice," Chris said. "I can't think of any other industry where someone gets an email from someone else stating that they intend to open up shop in their neighborhood, and have it answered not with anger, but delight."
Chris emphasizes that the support of Megan and Jesse is helping calm the waves of transition. Megan plans to study to becoming a certified cicerone, and will be hands-on in the brewery.
"When I met Sam and Mariah (Calagione) of Dogfish, I remember appreciating how much he relies on her to remember things, stay organized, and just for support in general," Chris said. "It was endearing and inspiring. Meg is my Mariah. I love her and couldn't do anything without her."
Chris met Jesse at work a few years back, and convinced him to join him in homebrewing last year.
"Jesse is a great brewer," he said. "He has an incredible palate and much like me, really approaches brewing from a culinary mindset. He has a wonderful grasp on flavors and pairings, which really comes in handy when we are brewing our more non-traditional beer."
Chris and Megan will be moving to Tampa in the middle of May; Jesse plans to join them in October.
As far as the future, Chris has big hopes for Archangel, but he wants to make sure all the pieces are in place.
"I would like to have the business plan squared away by the New Year so that we can begin the quest to find loans and investments, as well as obtain permits and licenses and all of the other fun legal stuff," Chris said. "I would love to say that we will be christening our tasting room with a grand-opening party two years from this May (or sooner, God willing) at the latest, but I am willing to give it as long as it takes."
To learn more about Chris and his brewing , read his Featured Brewer profile on Road Trips for Beer.