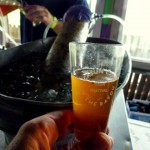 It's been nearly a month since the Cajun Cafe's Spring Craft Beer Festival, but I've been lax in posting about it.
Once again, owners Paul and Rebecca Unwin put on a great festival. There were so many great beers that I had to limit myself to only those that I've never tried before, and even then, many beers went undrunk.
Some of the highlights, at least for me:
Bell's Hopslam, which in the middle of the fest was run through a Randall of Simcoe hops. This was my first introduction to the coveted IPA.
Coronado's Idiot IPA. An excellent representation of the style. Hopheads need to keep an eye out for this one.
Reese's Peanut Butter Cup Stout. This was at one of several homebrew stouts, and I apologize because I can' t remember which one. Filtered through a Randall of peanut butter and chocolate chunks. Delicious. (UPDATE: Found out the stout was brewed by Jessica Domigan, a member of the Pinellas Urban Brewers Guild.)
Lager Haus Brewery & Grill out of Palm Harbor was there pouring a few of its brewers' creations, including the tasty yet ass-kicking 44 Magnum, a 22% ABV monster. Thankfully, the sample was only 2 oz. Still, I had to sit down and take a water break afterward.
Here are some photos I took at the festival on the Beer in Florida Facebook page.
If you missed it, don't worry. There will be another one in November, date TBA. Stay tuned.