I generally avoid superlatives in my writing.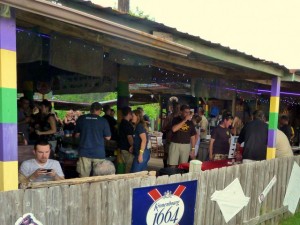 Saying that something is "the biggest," "the strongest," or "the prettiest" can prove dangerous because almost inevitably I will come across something that is bigger, stronger or prettier.
There are exceptions. For instance, the twice-a-year Craft Beer Festivals at the Cajun Café on the Bayou are the best in Florida. You don't have to take my word for it. Just head to Pinellas County's funky little slice of Louisiana Cajun Country this Saturday, November 12, 2011, for the 2011 Fall Craft Beer Festival.
But what makes these festivals worthy of superlatives? Here are five random reasons:
The Proprietors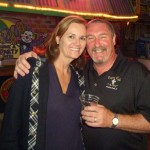 Paul and Rebecca Unwin embrace the community, the culture and the people of the Florida craft beer scene. Paul hails from Bristol, U.K., and is always glad to chat about beer, food or football (Both American and the other kind). Rebecca brings the Louisiana flavor to the partnership, and her Cajun roots show through in her open displays of warm hospitality to customers and friends.
The Atmosphere
From the moment you pull into the shell parking lot off of busy Park Boulevard until after you wend your way through the festival grounds to the outside deck with a serene view of the mangrove bayou – yes, it's on a real bayou – you'll know you're in the right place at the right time. Bobby Tess and his band provide the Dixieland Jazz soundtrack to the afternoon from the covered stage, and the weather is usually just right.
The Food
Admission always includes a full plate of Louisiana-spiced goodness from the Cajun Café's kitchen: crawfish cornbread, jambalaya, red beans and rice, and roast pork.
The People
There is always a great crowd, but it is never crowded, except perhaps on the dance floor when they're calling the ticket numbers for a raffle of great beer and merchandise to benefit Dunedin Doggie Rescue. The folks there are friendly and united by a love of great beer, speaking of which … .
The Beer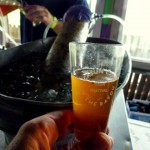 It's hard to describe the vast selection of quality beer for a festival of this size. You'll see everything from hard-to-find imports to  the creations of local homebrew clubs. Be sure to check out what's pouring through the Randall. The spring festival featured Bell's Hopslam filtered through Simcoe hops. There will be more than 100 beers on tap and in bottles for sampling, and local brewers and brewery owners often are there pouring their own brews.
Here's a short list of some of the beers that will be available for tasting, according to the café's website:
Dogfish Head Chateau Jiahu, Sierra Nevada & DH Life & Limb, 7 or 8 Ommegang beers, 10 plus Rogues styles, Stone Belgo Anise, Stone Old Guardian, Avery Eighteenth Anniv' Edition Dry, Hopped Rye Saison, La Trappe Quad Oak Aged, Rochefort 8 and 10, Sierra Nevada Ovila Dubble and Saison on draught, JW Lees Barley Wine 2002, 2006, 2005 aged in Sherry casks, and aged in Calvado Apple Brandy Casks, Duvel Special Edition Triple Hopped, Great Divide Yeti Espresso Oak Aged Stout, Great Divide Smoked Baltic Porter, Several Bruery Beers including the Cuir, Weyerbacher Fourteen (2009), Weyerbacher Insanity Barley Wine, Weyerbacher Sixteen Braggot Mead, Mikes Heavenly Home Brews, PUB Guild Homebrewers, Special Hoperations Homebrewers, Dunedin Brewers Guild
and more!
Tickets are $40, available only at the gate beginning at 1:30 p.m. Saturday. Designated drivers can get in for $15.  The festival runs from 2 to 6 p.m.
The Cajun Cafe on the Bayou is at 8101 Park Blvd., Pinellas Park.
Here are some photos from the 2011 Spring Craft Beer Festival.
 Disclosure: Paul Unwin usually comps my ticket for the festival, but that's just because he's a good guy. My opinions are genuine and honest.