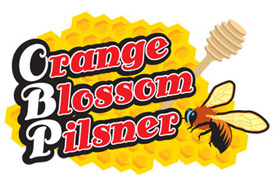 Orlando has been thirsting for its craft beer scene to catch up with some of the other hot spots in the state, and now a beer company that has been based there for more than a decade plans to bring it home.
Tom Moench, the brewer and mind behind Orange Blossom Pilsner and two other brands recently announced a name change to "Orange Blossom Brewing Company" on the company's Facebook page. I reached out to him to see what he had in the works and have good news to report.
Moench said he and business partner Mike Wallace, a former Florida rep for Terrapin Beer Co. out of Athens, Ga., are buying the old 3.5-barrel brewing system that Cycle Brewing used at its Peg's Cantina operation in Gulfport, and will open a brewery and tasting room in Orlando. The announcement of the physical address and more details will come in about two weeks, he said.
In the meantime, he's been using a brewery in Spring Hill at the former Duke's American Grill and Sports Brewery, which had opened in 2002 as Saint Sebastiaan Belgian Microbrewery.
"It is a really cool Belgian system that with tweaking, can make world class beer," Moench told me in a Facebook conversation. "It has a separate mash/lauter, making step mashing a breeze. Our first beer out of there is Heirloom Pale Ale, a beer made with no hybrid ingredients (Maris Otter and Goldings hops) 4.4% ABV and 35 BUs. For all the problems we had that day it came out surprisingly well and lets me know how great of a beer we can make there when we get the system dialed in."
Moench said he plans to brew Saison and Bavarian Weiss styles, as well. Improvements have been made to the system, he said, including a water purification system that will allow him to duplicate the water chemistry of various beer-making regions around the world.
"Most beers will use Pilsen water but I will make Bamburg water for my Weisse and Flanders water for our Saisons," he said. "We're thinking of doing a Saison of the month with different twists monthly."