A quick roundup of news from the Florida craft beer scene.
BEEEERRR IIIIINNNN SPAAAAACE!!!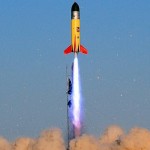 An Australian brewery reportedly will debut its new beer Saturday, February 26, in Florida. But what makes this different from Fosters? It's designed to be consumed in space. And no, there will be no daily happy hours at the International Space Station. The brewery, 4 Pines Brewing Company, designed the beer for passengers on commercial space tourist flights. And, by the way 4 Pines, I'm still waiting for my invitation to the tasting.
Blood for Beer
An errant tweet this week from the @RedCross Twitter account turned into a publicity bonanza for the group and Delaware's Dogfish Head Brewery, leading to a flood of #gettngslizzerd hashtags on Twitter and a slew of monetary and blood donations to the American Red Cross. In a few weeks, you can join the spirit of the movement AND get a free pint of beer at Orlando Brewing's Pint for a Pint Blood Drive.  Florida's Blood Centers will have a donation bus parked at Lake Eola Park in downtown Orlando on Sunday, March 6. Anyone donating a pint of blood there that day will get a coupon for a pint of beer at Orlando Brewing, Florida's only certified organic brewery, and a chance to name a new beer.
Grand Openings
World of Beer continues its

world-domination

expansion strategy with the opening of a new store in Land O' Lakes. This is the chain's 12th location in Florida. With more than 500 beers in bottles and on tap at each of its franchises, World of Beer admits that it is "anticipating national expansion at rapid speed."
Another Buffalo Wild Wings Grill & Bar has landed in Lakeland. Though the focus of these casual eateries is on wings and buckets of mass-produced domestic lagers, there are enough craft and import brews on tap that beer geeks can usually find something to suit their palates. I really like the wings, too (not the "boneless," though), and huge video screens and multiple TVs make BWW a great place to watch the game.
According to Jacksonville.com,  the Bold City Grill is now serving customers at the Sheraton Jacksonville. The restaurant features the beer of hometown craft brewer Bold City Brewery, as well as what looks like some mouth-watering menu items.
On The Road
Coming up on March 14 is the Beer Bomb Bus Tour: Lake and Whiskey Edition. The tour starts with a beer class at The Shipyard Emporium, then  makes the rounds to a local whiskey distillery and two craft beer bars, where further educational sessions – and tastings – will be conducted. Details are here.
Finally, our friends at Orlando Pub Crawl are holding the 2011 Orlando Winter Beerlympics on Saturday at Wall Street Plaza. Events include Flip Cup, Quarters and Beer Pong. Unfortunately for craft beer geeks, the featured brew of this extraordinary event is ordinary Miller Lite. The good news is that it's bottomless drafts.
If you have any beer news or tips that you think might be a good fit for Beer in Florida, please email the info to trips4beer@gmail.com. Florida craft beer venues and groups are always welcome to add upcoming events to our interactive calendar.
And remember, Florida: We are Here. We are Beer.