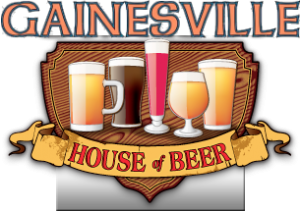 The Gainesville House of Beer has been serving craft beer for a few weeks now but like all new businesses, nothing is official until a ribbon is cut.
The new pub will hold its official grand opening on Friday October 21, 2011, with special guests Gainesville Mayor Craig Lowe and the Gainesville Chamber of Commerce.
The celebration will take place at the House of Beer, 19 W. University Avenue in downtown Gainesville, from 4 to 6 p.m., with the ribbon cutting scheduled for 5.
After the ribbon-cutting, the mayor will sling beers as a guest bartender until 6 p.m, with his tips going to Big Brothers/Big Sisters of Gainesville; the House of Beer will match the donation.
Drafts will be $4 from open to close, and local restaurants will provide food at no charge.
The celebration will continue from October 24-27 with special promotions, giveaways, and more drink specials.
The Gainesville House of Beer is owned by Rick Clemo along with longtime friends Andy Polce, Michael Aguis, and Greg Stewart, three graduates of the University of Florida who are returning to Gainesville to join the growing local craft beer community.
"We are happy to reinvest in the city of Gainesville by providing our fellow Gators with a friendly, smoke-free environment to experience the wide variety and ever expanding number of craft beers that may not have been available to the Gainesville market before," said Polce, a long time homebrewer and craft beer expert.
The House of Beer offers 40 taps of craft brews from across the nation, as well as more than 100 bottles of domestic and imports.
The flagship location, the Dunedin House of Beer in Dunedin, Florida, was recently named one of  America's 100 Best Beer Bars by DRAFT Magazine. A second location, the Palm Harbor House of Beer, opened in 2010.
Gainesville House of Beer can be followed on Facebook and Twitter @gainesvilleHOB.
Shop CompactAppliance.com and get the EdgeStar Full Size Kegerator for only $548.99 + Free Shipping